Page receives 2016 Commodore Award
Feb. 23, 2017, 4:26 PM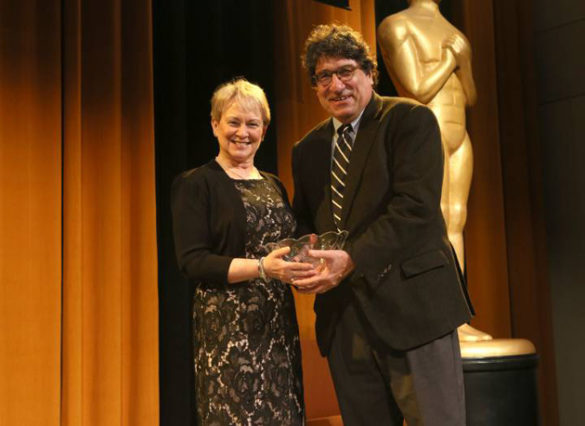 Karen Page, a department administrator in the School of Engineering's Department of Civil and Environmental Engineering, was named Vanderbilt University's most recent Commodore Award winner at the 2016 Service Award Ceremony in January.
The Commodore Award—VU's highest staff honor—is presented to full-time regular staff members who have made significant contributions to Vanderbilt University's pursuit of excellence in education, research and community service each year. Nominees typically demonstrate:
overall performance and accomplishments that regularly and consistently far exceed performance expectations, reflecting a high level of service, dedication, conscientiousness, compassion and applied skill;
the handling of high-impact or critical situations that had important consequences for a department, Vanderbilt University or the community; or
the development or improvement of processes that resulted in significant productivity and/or cost savings improvements.
Page's nomination was supported by letters from several colleagues. They cited her "unwavering dedication and exemplary service to Vanderbilt's students, staff and faculty"; her "work to foster a strong sense of community and compassion in our department, school and the university"; and her "role-model performance that goes beyond 'doing' to encompass 'teaching' the unique set of technical skills she has developed to generations of administrative assistants, purchasing agents, lab managers and grants managers inside and outside our department to support the vibrant and ever-changing discovery and learning environment at Vanderbilt."
"I highly recommend Karen Page for the Commodore Awards not only because of who she is and what she does, but for what she stands for—leading by example," one letter read.
"She accomplishes her tasks with enthusiasm, even under the often short time frames associated with many proposals; her expertise particularly shines with large, multi-investigator efforts that may be distributed among numerous academic departments within the university or even to multiple institutions. … She dedicates significant time and effort in developing and mentoring our staff and also serves as a fantastic resource for staff outside our department," read another.
"I cannot say enough words [of] praise for Karen. Her exceptional performance and dedication to excellence at her job every single day truly embodies the spirit of the Commodore Award."
Learn more about the award and see pictures from this year's Service Award Ceremony here.