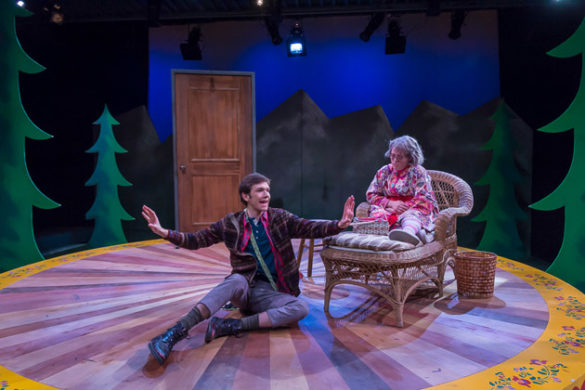 Vanderbilt University Theatre will perform GNIT, a comic and more contemporary version of Henrick Ibsen's Peer Gynt, through Feb. 24. Performances begin at 8 p.m. in Neely Auditorium.
GNIT, written by American playwright Will Eno, tells the story of Peter, a selfish and narcissistic character whose actions do not endear him to the rest of the cast. For example, he ends up banished from a town after stealing a bride on her wedding day. He also hooks up with other women in failed relationships and makes and loses several fortunes. Peter continues to wreak havoc throughout his journey of self-exploration.
The VU Theatre production is directed by Jessika Malone, a Fred Coe Artist-in-Residence and associate artistic director of the Actors Bridge Ensemble. "This twisted adaption of Ibsen's 1876 play sets up expectations then hilariously dashes them, challenging what we think we know about this classic character," Malone said. "Peter's problem-causing skills may well be his most pronounced ability. Today he'll disappoint his ailing mother by arriving late at her bedside. So begins a lifetime of bad decisions, for Peter believes he's on a mission to discover his 'authentic self.'"
Malone is an award-winning professional director, producer, teacher and performer who is committed to theatrical performance as a catalyst for social change. She earned a master of fine arts in theatrical direction at Illinois State University and a bachelor of arts in theatre from Belmont University.
Previous productions under her direction have received critical praise from The Tennessean, Nashville Scene and Broadway World.
Tickets are $10 for the public, $7 for seniors as well as for Vanderbilt graduate students, and free for undergraduates with a Vanderbilt ID. Click here to reserve tickets, or pick them up at Sarratt Box Office. For more information, call 615-322-3620.