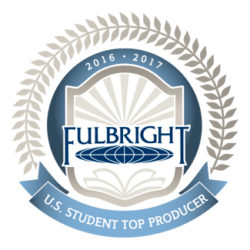 The U.S. Department of State's Bureau of Educational and Cultural Affairs has announced that Vanderbilt University is among the U.S. colleges and universities that produced the most Fulbright U.S. students in 2016-17. Among research institutions, Vanderbilt ranked 13th, tying with five other universities. Of the institutions recognized, Vanderbilt had the seventh-highest yield (31.7 percent) of applicants receiving awards.
The Fulbright Program is the U.S. government's flagship international educational exchange program. Top-producing institutions are highlighted annually in The Chronicle of Higher Education. (Click here for the "Fulbright students – Research institutions" list, and scroll down to find Vanderbilt on the list.)
Ten of Vanderbilt's 13 Fulbrighters are currently serving as English Teaching Assistants in Bulgaria, France, Germany, India, Malaysia, South Africa, Mexico, Taiwan (2) and Vietnam. The other three Fulbright recipients are conducting eight- to 10-month independent research projects in Mexico (archaeology), Brazil (archaeology) and Germany (history).
Since its inception in 1946, the Fulbright Program has provided more than 370,000 participants—chosen for their academic merit and leadership potential—with the opportunity to exchange ideas and contribute to finding solutions to shared international concerns. Some 1,900 U.S. students, artists and young professionals in more than 100 different fields of study are offered Fulbright Program grants to study, teach English and conduct research annually. The Fulbright U.S. Student Program operates in more than 140 countries throughout the world. Lists of Fulbright recipients are available on the organization's website.
The Fulbright Program is funded through an annual appropriation made by the United States Congress to the Department of State. Participating governments and host institutions, corporations and foundations in foreign countries and in the United States also provide direct and indirect support.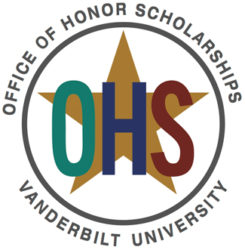 In the United States, the Institute of International Education administers and coordinates the activities relevant to the Fulbright U.S. Student Program on behalf of the Department of State, including conducting an annual competition for the scholarships. The Fulbright Program also awards grants to U.S. scholars, teachers and faculty to conduct research and teach overseas. In addition, some 4,000 new foreign Fulbright students and scholars come to the United States annually to study for graduate degrees, conduct research and teach foreign languages.
The Fulbright program is open to rising seniors, graduate students and alumni in all academic disciplines. U.S. citizenship is required. The Vanderbilt Office of Honor Scholarships supports students through the entire application process and provides the university endorsement required by Fulbright.
For more information, contact Lyn Fulton-John or Todd Peterson in the Office of Honor Scholarships at ohs@vanderbilt.edu. To learn about a range of other scholarship opportunities, visit the OHS website.