Sam discusses personal journey, 'owning truth' at Chancellor's Lecture
by
Kara Furlong
Feb. 20, 2017, 9:05 AM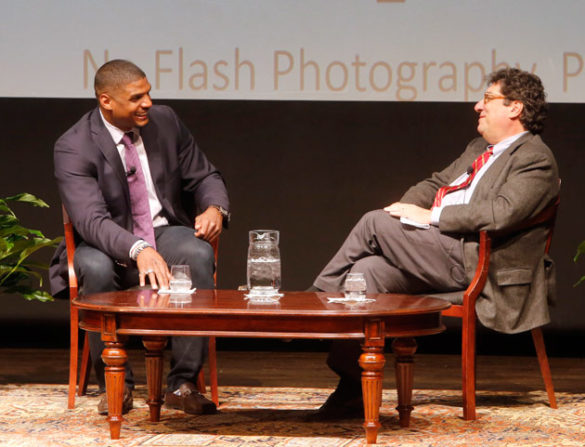 When University of Missouri defensive end Michael Sam came out as gay ahead of the 2014 NFL draft and became the first openly LGBT athlete to be drafted in any major American sport, he was instantly branded a trailblazer and gay icon. But there is more to his story.
Sam relayed that story—from growing up impoverished in tiny Hitchcock, Texas, to playing football at the highest level for two NFL teams—during a Feb. 16 talk in Sarratt Cinema. The event was part of the Vanderbilt Chancellor's Lecture Series.
Like many in the audience, Chancellor Nicholas S. Zeppos said he'd seen Sam on television as well as on the Vanderbilt campus when he was a Missouri player. "We all have admiration for the many things he has done," Zeppos said. "But I think what we have to realize is he's always been on a journey, and he didn't start out as the star.
"He is an incredible representative and voice about sports, about our society, about discrimination, about courage and about leadership," Zeppos said.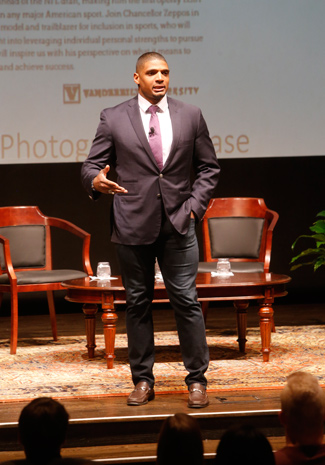 Sam's journey has been marked by adversity and perseverance, he said. "I went through a lot. And to be honest with you, what the media didn't tell you guys was how I became the man I am today. They kind of omitted that—they're kind of just like, 'Let's talk about that famous kiss,'" said Sam, referring to the public kiss he shared with then-boyfriend Vito Cammisano after he was drafted.
The real story is how Sam came to "own my truth," he said.
Sam was born the seventh of eight children, and three of his siblings didn't live to adulthood. His father left the family, and his two surviving older brothers became involved in drugs and gangs and were abusive to Sam and other family members. He began participating in school sports—first football, then basketball and track—as a way to avoid being at home.
Sam's size and athletic ability soon made him a football standout. Universities began to scout him as a high school sophomore, but his coach warned that he didn't have the grades to get into college. Having never thought higher education was an option, Sam focused on improving his grades and SAT score. He said that, to this day, his proudest moment was seeing the tears of joy in his mother's eyes as he crossed the stage to receive his high school diploma.
Sam said he first suspected he was gay while in high school. At the University of Missouri, he began dating a fellow student-athlete, Cammisano, a swimmer. But Sam's desire to conceal the relationship—even though it was an open secret among his teammates and peers—put a strain on the couple. Sam was deeply unhappy. "When I looked in the mirror, the person that was looking back at me was a pretender—someone who was pretending to be Michael Sam," he said.
At the start of his senior year, Sam came out to his coaches and fellow players during a team meeting. In a customary get-to-know-you exercise, Sam introduced himself.
"I stood in front of the group and said, 'My name's Michael Sam. I'm a senior. My major is sports management. I'm from Hitchcock, Texas.' And then I paused—and then I said I was gay," he said. "And it was the first time in my life I'd ever said those words."
While his teammates were accepting and supportive, they also were wary that his declaration would become a distraction at a time when the team was trying to rebuild from the previous losing season.
"The next day, (Missouri Head) Coach (Gary) Pinkel invited me to his office," Sam recalled. "I love this guy—I love him with all my heart. He said, 'Mike, congratulations. I love you; I support you. What do you want to do?'
"I told Coach Pinkel, 'It's not about me. It's about this 2013 season,'" Sam said. "He said, 'I love that answer. Let's get to work.'"
The team went 12 and 2 that year and played for the SEC Championship in only its second season in the Southeastern Conference. Missouri won the Cotton Bowl, and Sam was named the SEC Defensive Player of the Year.
"If you look back on that season, you saw an openly gay man play. I was no longer in the closet," Sam noted. "I felt that in every game I needed to give it my all, because those guys supported me and rallied around me at my coming out. I felt that it was right for me just to play my very best."
Sam next set his sights on the NFL and assembled a team of agents and advisers. He was dismayed that one agent in particular wanted to emphasize his personal story over his athletic ability.
"I didn't understand why I had to come out on a platform. At this point, I know who I am," Sam said. The agent persisted, and Sam finally agreed.
"On Feb. 9, 2014, I came out to the world. I honestly believed (the attention) was only going to last two weeks, and then they were going to move on to a different story. How wrong was I," he said. "I really thought I hadn't done anything special. I was just owning my truth. … I no longer cared if society viewed me ill. I didn't do it for my community; I didn't do it for my family. I did it for me."
Sam was hopeful when the 2014 draft rolled around three months later. "I knew that I wasn't going to go first round. But as the SEC Defensive Player of the Year, I thought it would be late second or early third. I led the nation in sacks that year," he said.
In the end, the St. Louis Rams drafted Sam in the seventh round, the 249th of 256 players selected in the 2014 draft. "Six teams were supposed to draft me, and not one of those six were the Rams," he noted.
The Rams would later cut him from the team during the preseason. Sam also spent time on the Dallas Cowboys' practice squad and played briefly for the Montreal Alouettes of the Canadian Football League. Though his professional football career hasn't panned out, Sam said he's found a greater purpose for his life.
Prior to the 2014 draft, a former teammate asked Sam to get in touch with his cousin.
"She said, 'You know you saved my life, right?' … It turned out she tried to commit suicide, twice, because she was gay. She tried to kill herself because she was being bullied, because people were bullying her for her sexual orientation.
"I was speechless," Sam said. "She found courage in me coming out. She said, 'If Michael Sam can come out before his NFL career even begins, I can come out to my family and be comfortable with who I am.'"
Sam said he has received thousands of messages from all over the world detailing similar stories.
"The stories are unbelievable," he said. "If you take the time to listen to someone's story, you have no idea how much of an impact you can have on their lives. If we take the time to listen, we can save somebody's life."
Sam thanked the audience for listening to his story.
"I don't care if you're black; I don't care if you're white. I don't care if you're gay; I don't care if you're straight," he said. "By being in this room this evening, at this very moment, you are showing that you're an ally and an advocate of the LGBT community. And right now we need you more than ever."