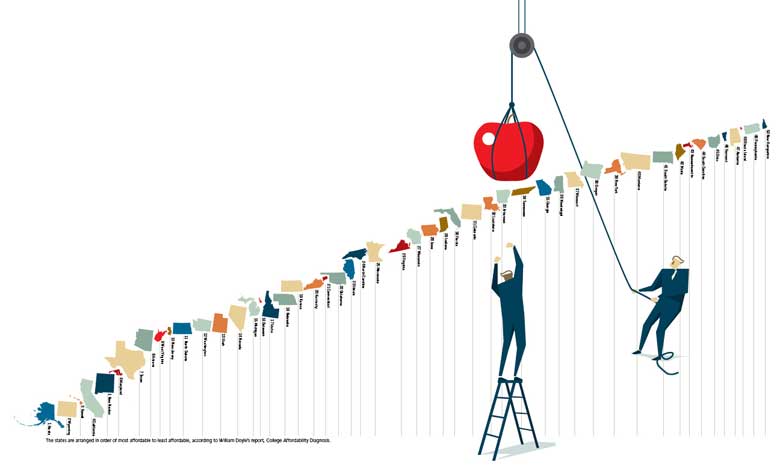 Tyler is a bright young student. He gets good grades and participates in extracurricular activities. He has a job at the home improvement store and has started saving his money. He has applied to a state college nearby and is accepted. He even qualifies for a scholarship. Sounds like Tyler's going to college, right? Not necessarily.
Once upon a time, good grades, some financial aid and a part-time job went a long way toward a student's ability to earn a college degree, even on a tight budget. But times have changed, and not for the better. Working your way through college is an outdated notion, according to College Affordability Diagnosis, a new Peabody report that examines the decline of college affordability in America since 2008.
William Doyle, associate professor of public policy and higher education, is co-author of the report in a partnership with University of Pennsylvania. Evaluating all 50 states, the report compares tuition costs, cost of living, poverty rates, average salaries and available financial aid to rank the states best to worst.
Skyrocketing tuition and shrinking state financial aid are fueling the affordability crisis.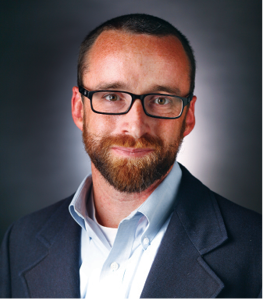 "Tuition has gone up because colleges are getting more expensive to run and state support hasn't been able to keep up," Doyle said. "Today, having at least some college education is a prerequisite for a middle-class lifestyle, but the increasing prices are keeping out low-income students. It's time to make college accessible for all qualified students, not just those who can afford it."
New Hampshire, which the report ranked worst in the nation for college affordability, has some of the priciest public and private institutions in the country. To make things worse, the state offers its students no financial aid of any kind, causing New Hampshire undergraduates to borrow money at some of the highest levels in the country.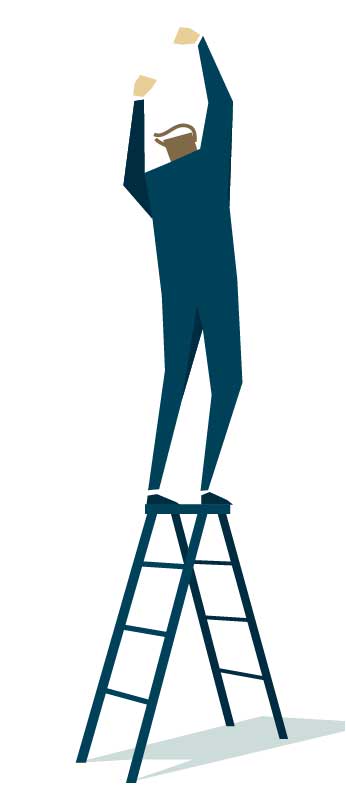 "A family in New Hampshire that earns about $30,000 per year would need to spend 159 percent of its annual income to send one child to one of the state's private four-year nondoctoral colleges full time. That's just not feasible," Doyle said.
Alaska, ranked No. 1 for affordability, tells a different story. The University of Alaska is the most affordable state public research institution in the country. Additionally, Alaska boasts high annual salaries for about a third of its residents ($110,000 or more) and has experienced decreasing poverty rates in recent years. But low-income Alaskans ($30,000 or less per year) still struggle—they must be prepared to spend 39 percent of their family's annual income to attend college full time.
California, ranked No. 4, seems a better example of true affordability. Moderately priced community colleges form the backbone of its post-secondary system, and the state provides above-average need-based financial aid. California's public two-year institutions also are becoming increasingly more affordable. Low-income students would have to work only 21 hours a week on average to pay annual costs of attending these schools full time.
The federal government expanded its commitment in recent years to ensure that qualified students can afford higher education. The Obama administration expanded Pell Grants and loan repayment options. It also established and extended the American Opportunity Tax Credit, which provides up to $10,000 per year for four years of college tuition. But many state and institutional leaders no longer believe it their role to be meaningful partners in the federal government's efforts, according to Doyle.
"Unless state and federal policymakers act together to ensure that educational opportunities beyond high school are affordable, it would not be surprising to see greater economic and racial stratification reflected in our colleges and universities—as well as society," he said.
Some states have aid programs that aim to help students bridge the gap. Through its "Drive to 55" campaign, Tennessee hopes to ensure that 55 percent of its citizens will have earned a college degree or certificate by the year 2025. The program includes lottery-funded state scholarships and a free two-year community college program. Georgia also has a lottery-funded college scholarship program for high school students. In Colorado, the College Opportunity Fund provides a stipend of up to $2,250 per year. New Jersey's student tuition assistance reward scholarship covers the cost of tuition at New Jersey's 19 community colleges.
"Our findings reveal a nation that is poorly positioned for the present, much less the future."
—William Doyle
But many students who take advantage of these programs would have attended college anyway, according to Doyle.
"What states need to work on is ensuring that the neediest students benefit from the state aid programs," he said. "Increases in enrollment must come from populations that traditionally have not gone to college, including low-income students and members of racial or ethnic groups that traditionally have low enrollment rates."
In related research, Doyle is looking at the salaries and civic engagement of those who attend college compared to those who don't. Early findings suggest that those who attend college earn incrementally more for each year of college attained (with women benefitting the most). Data also indicate that those who attend college may be engaging more in their communities, through voting, volunteering and philanthropy, than those who don't pursue higher education.
"Our findings reveal a nation that is poorly positioned for the present, much less the future," Doyle said. "If we continue as we are, higher education will become another mechanism for the further stratification of America. Policymakers must ensure access to higher education to ensure greater opportunity and prosperity for all Americans."
What is affordability?
For the study, college affordability was defined as percent of family income required to pay all educational expenses, after financial aid, to attend college full time, accounting for familes of different economic means.
Collaborators with Doyle on this 2016 study were Joni Finney, Institute for Higher Education Research at University of Pennsylvania Graduate School of Education; and Patrick Callan and Darcie Harvey of the Higher Education Policy Institute.