Babies and toddlers needed for language development studies
Feb. 7, 2017, 2:30 PM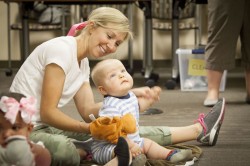 The Language Development Lab at Vanderbilt University is seeking help from parents with infants 11 to 12.5 months or toddlers 15 to 17 months of age. The lab's studies are designed to discover how children learn to understand speech, especially when it is about something absent. The lab is seeking parents willing to bring babies or toddlers to the lab and participate in one of the studies.
The procedures are brief, fun and entirely safe, and you would stay with your baby throughout your visit. The studies involve one of the following procedures:
Playing with your baby with some toys and recording his or her reaction to mentioning the toys when they are present or absent.
Video recording your baby as he or she plays with some toys.
All studies involve one visit of about 45 minutes to one hour to the lab, which is located in Jesup Hall on the Peabody College campus. Free parking is available nearby, and a lab member will meet you near the parking area and walk you to the lab. There is also a waiting area where older brothers or sisters can play with toys and other lab members while you and your baby take part in the study. If you think you might be interested, please call 615-343-8721 or email maria.a.osina@vanderbilt.edu.