---
Listen to the first episode of The Zeppos Report >
Vanderbilt University Chancellor Nicholas S. Zeppos has launched a new podcast, The Zeppos Report, during which he will interview a wide variety of experts to provide meaningful insights on current issues and trends.
The Zeppos Report will feature Vanderbilt faculty, students, staff and alumni as well as other engaging individuals on topics that range from politics to pop culture. Podcasts will be lightly produced so that listeners feel like they are at the table.
"I am excited to have the opportunity to sit down with some of the amazingly talented people who work on our campus, and in the community, and to share their diverse areas of expertise and opinions with our listeners," Zeppos said. New episodes will be posted regularly during the academic year.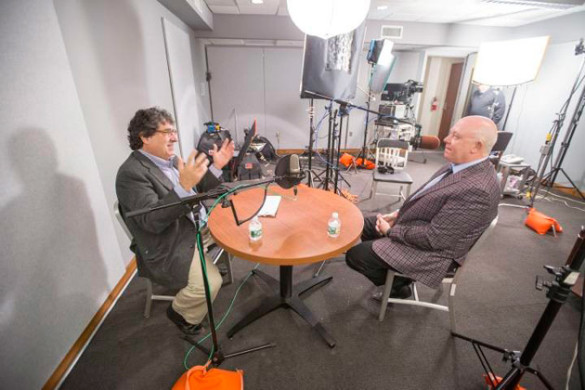 Zeppos' first podcast guest is renowned Vanderbilt political scientist John Geer, who is also vice provost of academic and strategic affairs and co-director of the Vanderbilt Poll.
Geer offers his informed perspective on why Donald Trump won the election and how the way he ran his campaign seems to be a predictor of at least the beginning of his presidency.
Geer, author of the award-winning book In Defense of Negativity: Attacks Ads in Presidential Campaigns, discusses why political advertising in the 2016 presidential campaign was much less important than in the past. In addition, he makes a couple of surprising predictions for Trump's first 100 days in office.
The podcast is currently available on SoundCloud, YouTube, Google Play and The Zeppos Report webpage and will be available on iTunes soon.