Student-organized events raise awareness about Islam
Feb. 6, 2017, 12:17 PM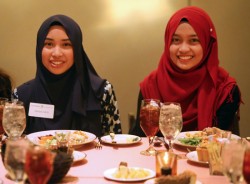 Vanderbilt University's Muslim Students Association will host a series of events and programs Feb. 6–10 for Islamic Awareness Week. Opportunities for faculty, staff, students and alumni include the following:
Meet a Muslim

Feb. 6–10
11 a.m.–1 p.m.
Sarratt Promenade
Enjoy trivia games about Islam and free snacks as well as the opportunity to meet Muslim classmates.
World Hijab Day/Dinner

Tues. Feb 7
Hijab wrapping stations
7:30–10 a.m.
Commons Fireside Lounge; Rand Hall, Room 306
Women of all faiths are invited to wear a hijab for a full day to experience first-hand what Muslim women go through on a daily basis.
Dinner
6:30 p.m.
Kissam Center, Room C216
After wearing a hijab for a day, all are invited to dinner to reflect on and discuss their experience.
Islam 101
Wednesday, Feb. 8
6:30 p.m.
The Commons Center, Multipurpose Room 237
In collaboration with The Martha Rivers Ingram Commons, the Muslim Students Association will host Islamic Center of Nashville President Rashed Fakhruddin, who will share on general beliefs and practices in Islam and help address some common misunderstandings about the religion. 
The Fight for Freedom: Combatting Islamophobia and Organizing for Social Justice

Thursday, Feb. 9
6:30 p.m.
Black Cultural Center Auditorium
The Muslim Student Association and the Bishop Joseph Johnson Black Cultural Center will host guest speaker Zulfat Suara, a Muslim activist and advocate for organizing against all social injustices. Suara will discuss taking an active stance against Islamophobia and other injustices while collaborating with other groups in order to fight for our collective rights.
For more information about the Muslim Student Association and Islamic Awareness week, click here.