Media Inquiries
Latest Stories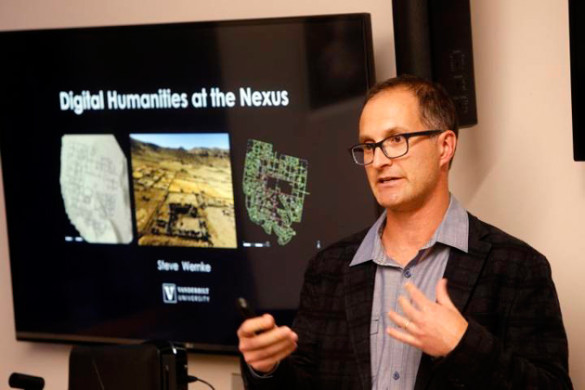 More than 100 faculty and students filled Vanderbilt University's new Center for Digital Humanities Jan. 26 to celebrate a dynamic hub in Buttrick Hall for scholarly projects using digital tools.
The center will be home each year to a cohort of faculty, postdoctoral, graduate and undergraduate students seeking digital approaches to humanistic scholarship. In addition, it will serve as a resource for faculty and students who seek an introduction to digital humanities.
Susan R. Wente, provost and vice chancellor for academic affairs, thanked Lauren A. Benton, the Nelson O. Tyrone Jr. Professor of History and dean of the College of Arts and Science, and other deans and faculty members for their hard work to launch the center.
"The center opening represents a true convergence of leadership amongst the schools, and leadership, in particular, within the humanities disciplines," Wente said. "By creating this hub of tools, resources and campus partners, we bring together colleagues from diverse disciplines to advance humanist research and scholarship. I also appreciate how the center will create excellent training opportunities for students and fellows, positioning them for success."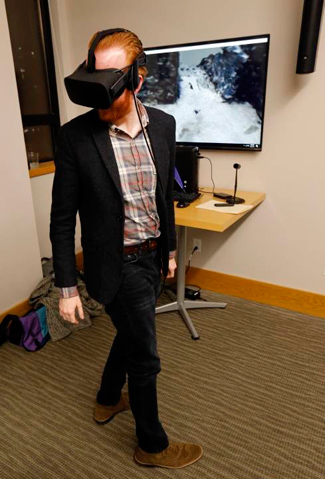 The Center for Digital Humanities was awarded a $1.5 million grant from the Andrew W. Mellon Foundation. It is receiving additional support from the provost's office and the College of Arts and Science.
"I am profoundly grateful to the Mellon Foundation for making possible this state-of-the-art center," Benton said. "I was thrilled to find a strong group of scholars already working in the digital humanities across several schools, departments, centers and the library when I arrived at Vanderbilt in 2015. This new center will bring scholars together to learn from one another as they advance innovative research projects across the humanities."
Benton announced that Helmut Smith, Martha Rivers Ingram Professor of History, will serve a three-year term beginning in the fall as the center's director. In addition, Madeleine (Mickey) Casad, senior lecturer in the Program in Cinema and Media Arts, will hold the position of associate director.
Benton praised Casad, who held a similar role in the digital humanities at Cornell University, for her strong organizational efforts to launch the center. Casad has developed a rich array of public workshops and lectures at the center, which will be open to the community.
The center will help support a planned new joint doctoral program in Comparative Media Analysis and Practice that will be led by Lutz Koepnick, Gertrude Conaway Vanderbilt Professor of German, Cinema and Media Arts, who served on the center's steering committee. The program proposal includes providing annual support for a cohort of students in a variety of humanities disciplines, with a sixth year of support for media analysis and digital scholarship.
In addition, the center's resources are open to three schools—Tennessee State University, Tougaloo College and Berea College—that formed a humanities partnership with Vanderbilt under a previous Mellon grant.
The inaugural group of Mellon Faculty Fellows for 2016-17 are:
For more information, visit the Center for Digital Humanities website or email Mickey Casad.