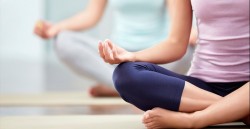 Unmanaged, prolonged stress has been found to increase your risk of several psychological, behavioral and physical health problems. Theories regarding what causes stress are varied, but the main feature is increased demands on time, energy, thoughts and emotions without the presence of adequate coping resources to match those demands. Coping resources that have managed a person's stress in the past do not always work in the present, especially when confronted with new, novel or intense stressors.
Although effective self-care practices have been shown to reduce the negative effects of stress, self-care tends to be the first thing to go when people become overwhelmed by internal and external stressors. In the January 2017 edition of "EDI Connect," the Vanderbilt Office of Equity, Diversity and Inclusion's newsletter, Work/Life Connections–EAP manager Jim Kendall discusses the importance of self-care in addressing stress. He writes that self-care "is not an indulgence," and it is "the act of intentionally engaging in activities to achieve an optimal level of well-being."
In addition to not feeling permitted to engage in self-care, people often struggle to identify just what might be an effective self-care practice. Ellen Clark, clinical counselor for Work/Life Connections–EAP, recommends mindfulness practices, which are quick, but focused, ways to engage in self-care. For example, diaphragmatic breathing exercises or mediation are both excellent coping skills found to help buffer stress. She recommends using smartphone apps, such as Buddhify or Calm, to learn short meditations. In addition, she recommends noticing the critical or negative messages we tell ourselves and replacing them with supportive, affirming ones.
Learning to practice self-care can be a difficult process, but it is becoming a necessity for dealing with constant coverage of world events, work demands, and the needs of family and loved ones. If you would like help learning positive self-care practices, employees can seek brief, targeted support through Work/Life Connections–EAP by calling 615-936-1327 and making an appointment.