Student entries sought for data visualization competition
Jan. 31, 2017, 10:03 AM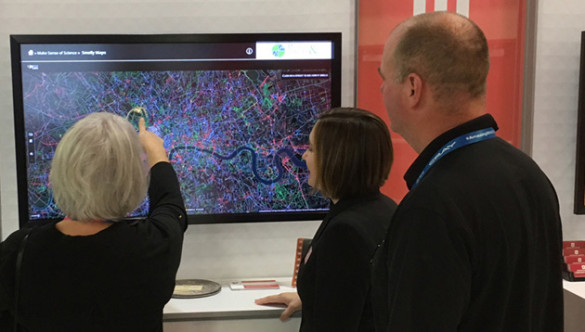 Vanderbilt University is hosting a data visualization competition for all undergraduate, graduate and professional students. Data visualization is presenting objects, ideas and data in a visual or nontraditional way that highlights trends, outliers and unique representations of the information.

The competition is being held in conjunction with the campus exhibition Places & Spaces: Mapping Science, an international collection of data visualizations that use groundbreaking methods to make sense of large data streams. Works from the exhibition are currently on view in Vanderbilt's Sarratt Student Center, Rand Hall, the Wond'ry, and Central Library.
Learn more about Vanderbilt's Places & Spaces: Mapping Science exhibition.
A total of six student awards will be handed out in two categories: Best Data Visualization by an Undergraduate Student, and Best Data Visualization by a Graduate or Professional Student.
Prize money in each category will be awarded as follows:
Examples of data visualization include traditional GIS mapping, 2D image maps, digital 3D visualizations, sculpture, music and more. The best submissions will be creative, innovative and facilitate a particular understanding of a topic through data synthesis.
Submissions will be accepted from any discipline regardless of medium. Submissions may be digital or physical, but must be mobile and displayable in campus spaces. Submissions may be associated with class work or represent independent study. Both individual and group submissions are welcome.
Submissions are due by 5 p.m. Wednesday, March 15. Digital submissions may be emailed or shared via Box to Celia Walker (celia.walker@vanderbilt.edu). Physical submissions may be delivered to Kirkland Hall, Room 411A. Please include your full name, VUnetID, primary school affiliation, email address, and current phone number in your submission materials. Please also include a written description or summary of your submission no longer than one page.
Awards will be distributed in April 2017.
The competition is being sponsored by the Wild Bunch Fund—established in 1997 to honor the late Chancellor Emeritus Alexander Heard and his wife, Jean Heard—in association with the Places & Spaces: Mapping Science exhibition. For additional examples of data visualizations, visit the Places & Spaces: Mapping Science website.
For questions, email celia.walker@vanderbilt.edu.