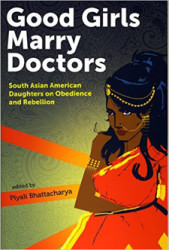 Piyali Bhattacharya, writer in residence in English, and students from the Nashville School of the Arts will conduct a reading of Good Girls Marry Doctors: South Asian American Daughters on Obedience and Rebellion, an anthology edited by Bhattacharya, at Barnes & Noble Vanderbilt Wednesday, Feb. 15. The event will begin at 5:30 p.m.
The anthology examines the multiple facets of daughterhood in South Asian American families. The voices in the work reveal how a "good girl" is trained to seamlessly blend professional success with the maintenance and reproduction of her family's cultural heritage, while her gratitude for her immigrant parents' sacrifices can create intense pressure to perform and embody the role of the "perfect daughter." Yet, the demand for such perfection can stifle desire, curb curiosity, and make it fraught for a good girl to construct her own identity in the face of stern parental opinion.
Good Girls Marry Doctors is filled with stories from a diverse array of women. The narratives expose struggles that are too often hidden from the public eye, while reminding those going through similar experiences that they are heard and not alone.
Contact: John Lasiter
john.lasiter@vanderbilt.edu