Media Inquiries
Latest Stories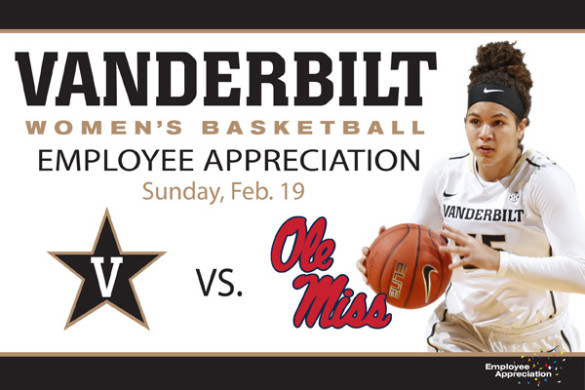 Vanderbilt University employees and their families are invited to cheer on the Vanderbilt women's basketball team as they take on Ole Miss Sunday, Feb. 19. The free Employee Appreciation event begins with a Fan Fest at 12:30 p.m. in the Memorial Practice Gym followed by the game at 2 p.m. The Fan Fest will feature food, inflatables, and other fun activities for kids of all ages.
Vanderbilt University employees can register to attend the Fan Fest and game at vu.edu/bball between Jan. 30 and Feb. 16. Please register, even if you plan to attend the pregame event only.
Game tickets are free but must be reserved in advance. Tickets can be picked up at the practice gym beginning at 12:30 p.m. on Feb. 19 only; there is no early pickup. All game attendees, regardless of age, must have a ticket to enter the gym. Once you receive your tickets, you are not permitted to leave and re-enter the gym. You'll need to show your VU ID to pick up tickets, and are encouraged to wear black and gold. Free tickets will not be given to anyone wearing red apparel or the Ole Miss logo.
Any unclaimed tickets to the game will be handed out on a first-come, first-served basis at the pregame Fan Fest beginning at 1:50 p.m.
Parking for the event is available in the lots at the corner of Natchez Trace and Jess Neely Drive, or you may park in your normal parking location.
Please note: This event is for Vanderbilt University employees and their families only.
Click here to see the flier. For more information, visit vu.edu/bball.