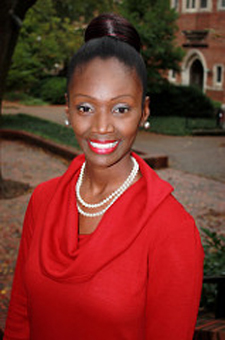 Courtney Salters Henderson, who spent much of her career helping Vanderbilt students develop their leadership skills through student organizations, died Jan. 26 in Nashville. She had been a member of the Vanderbilt community since her days as an undergraduate student, and since 2005 had served as director of student organizations.
"Courtney's optimism and quiet confidence infused students working through the challenges of leadership with enthusiasm and hopefulness. She helped many students be successful at Vanderbilt and in their personal lives. As her colleagues and friends, we are both pained by her loss and inspired by her life and work," Mark Bandas, associate provost and dean of students, said.
Her experience working as a resident adviser while she was a Vanderbilt undergraduate sparked the Tupelo, Mississippi, native's interest in a career in student affairs. After graduating from the university in 1998, she began her career as an admissions counselor in Vanderbilt's Office of Undergraduate Admissions, later becoming assistant director for the office in 2000.
In 2002, seeking to make more meaningful connections with students, she transitioned to a position within the Office of the Dean of Students as assistant director of student organizations and governance. In 2005, she was named director.
"Courtney made a difference in the lives of so many students. She had a contagious smile and always made students feel more at ease in every situation. Vanderbilt was an extension of her family and she will be missed dearly," said Clayton Arrington, senior director for student programs and organizations and experiential learning.
Whether it was through the annual recruitment weekends she planned for underrepresented students as an admissions counselor, or the important lessons she provided over the years to student leaders about accountability, conflict resolution and effective leadership, Henderson had an impact on numerous students. She played a critical role in advising Vanderbilt Student Government and allocating activity fees to student organizations each year.
"Courtney was not only an incredible adviser to Vanderbilt Student Government and countless other student organizations, but a dear and tremendous friend and mentor," Ariana Fowler, Vanderbilt Student Government president, said. "The patience, compassion and dedication she endlessly gave day to day were simply unparalleled in today's busy world. The Vanderbilt community mourns her loss, but we are dedicated to keeping her spirit and memory alive."
Henderson received her bachelor's degree in psychology from Vanderbilt in 1998, then earned her master of business administration from Belmont University in 2008.
She had been married to Ronald Henderson since October 2016. They have a son, Micah.
Services are scheduled for Tuesday, Jan. 31, in Nashville at Born Again Church at 858 W. Trinity Lane. Visitation is at noon. The funeral service will begin at 1 p.m.