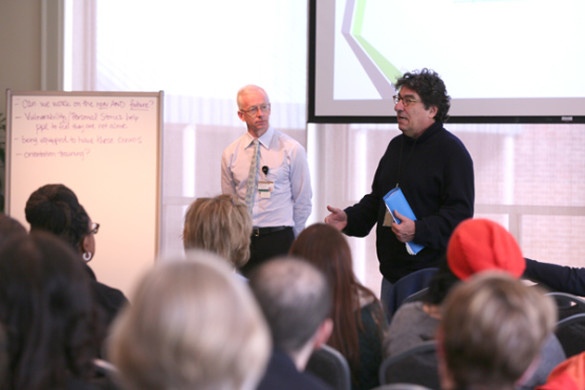 Chancellor Nicholas S. Zeppos told students, faculty and staff gathered Jan. 26 for a town hall meeting on mental health and well-being, "Our community needs to talk about people who need help, attention, love and support."
The event at the Student Life Center was an opportunity for the campus community to learn about current campus initiatives and programs, hear from faculty working in the field, get an update from the Chancellor's Strategic Planning Committee on Mental Health and Wellbeing, and ask questions and submit suggestions on how to make Vanderbilt a healthier campus related to mental health and wellness.
"[rquote]We want to provide the best care and facilities, and harness the intellectual power of our academic community to make progress through research," Zeppos said. "This is a legacy we can provide to our own families and to their children and grandchildren."[/rquote]
Provost and Vice Chancellor for Academic Affairs Susan R. Wente told those gathered that the university's intention is "to elevate the discussion around mental health."
In discussing the numerous campus resources currently available, she noted, "Depression and anxiety can manifest at different times for individuals."
Wente highlighted efforts such as the Vanderbilt Visions first-year student curriculum that this year focuses on resilience in the face of adversity. The curriculum is based on the book Strong Inside: Perry Wallace and the Collision of Race and Sports in the South. Wallace, as a Vanderbilt undergraduate, was the first African American basketball player in the Southeastern Conference.
Support services for graduate and professional students also have been expanded this academic year and include a well-being coordinator for graduate students and post-doctoral fellows and dissertation support groups at the new Center for Student Wellbeing, which serves all students.
Wente also noted the university is launching a campuswide campaign, "GO THERE: Break the silence. Break the stigma." The campaign's aim is to create a campus culture in which community members can have brave dialogue and honest self-reflection in order to support their own mental health and well-being and that of their fellow students, faculty and staff.
Faculty members Rene Marois and Dominique Behague, who both serve on the chancellor's strategic committee, gave presentations on academic research that could inform the university's efforts. Marois, professor and chair of psychology, explained the interplay between mental and physical health, and Behague, associate professor of medicine, health and society, addressed what lessons or best practices her research on mental health services in Brazil might have for Vanderbilt and others.
Chancellor's strategic committee co-chairs Donald Brady, senior associate dean for graduate medical education and continuing professional development, and Velma Murry, Lois Audrey Betts Chair in Education and Human Development at Peabody College, gave an update on the committee's efforts to schedule listening tours and focus groups to gain feedback from students, faculty and staff that will help the committee in developing its report.
"Our goal is to submit a report to the chancellor in October, but we want to be sure we hear from as many people on campus as possible. If we haven't done that by October, then we will take a little longer," Brady said.
During the final 30 minutes of the event, members of the audience asked questions and shared their perspectives on why some people might be reluctant to take advantage of services and offered suggestions on how the university might enhance its efforts to encourage dialogue.