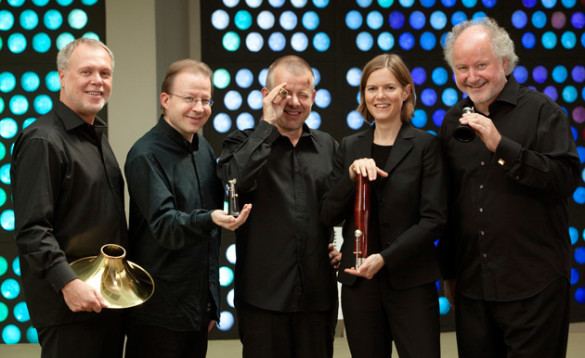 The Berlin Philharmonic Wind Quintet visits Vanderbilt University's Blair School of Music for a three-day residency Jan. 31–Feb. 2 as part of Blair's ongoing collaborative relationship with the world-renowned group. Its member-artists will conduct master classes, provide individual instruction to students, and coach members of Blair's large ensembles during their residency. On Wednesday, Feb. 1, the quintet will perform a free concert at 8 p.m. in Ingram Hall.
Possibly the most-celebrated wind quintet in the world, the Berlin Philharmonic Wind Quintet serves as an ensemble in residence at Blair through a collaborative arrangement that began in 2010. Its members—Michael Hasel, flute; Andreas Wittmann, oboe; Walter Seyfarth, clarinet; Fergus McWilliam, horn; and Marion Reinhard, bassoon—are all devoted teachers as well as artists, who, in recent years, have intensified their teaching and coaching roles with music students, giving chamber music workshops and instrumental instruction in many countries, including the Sistema program in Venezuela, which Blair also supports. The quintet's members have worked with Blair students at the Vanderbilt Music Académie in Aix-en-Provence, France, during the summers as well as in residence at the Blair School.
Berlin Philharmonic Wind Quintet French horn player Fergus McWilliam remarked on a previous visit, "At the Blair School, we have discovered an environment so respectful and supportive of music, as well as those young people who wish to explore music, that it may well be unique in the U.S.A."
Four members of the quintet are original to the group formed in 1988, with bassoonist Marion Reinhard having joined in 2010 to replace the group's first bassoonist, Henning Trog. As a chamber ensemble, the quintet is known for its range of expression, tonal spectrum and conceptual unity. Many believe the ensemble has succeeded in redefining the sound of the classic wind quintet through a repertoire that not only covers the entire spectrum of wind quintet literature, but also includes works originally written for large ensemble.
In addition to their recordings and concert appearances throughout Europe, North and South America, Israel, Australia and the Far East, the Berlin Philharmonic Wind Quintet is also a popular guest at international festivals such as the Berliner Festwochen, the Edinburgh Festival, the London Proms and the Salzburg Festival. Their television productions and radio broadcasts are seen and heard throughout Europe, Asia and North America.
The quintet's concert program at Blair will include Mozart's Fantasy in F Minor for Clockwork Organ, K. 594, Ligeti's Six Bagatelles, Nielsen's Quintet for Winds, and the American premiere of Kalevi Aho's Quintet No. 2, composed in 2015 for the quintet. Master classes and performance classes beginning at noon the afternoon of Feb. 1 are open to members of the public to observe, though space is limited.
Concertgoers may park for free in West Garage, directly across Children's Way from the main entrance to the school, after 5 p.m.