Pulitzer Prize-winning playwright to deliver Howard Lecture
by
Ann Marie Deer Owens
Jan. 24, 2017, 4:14 PM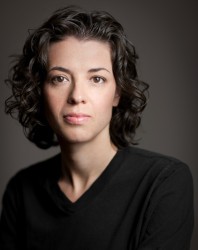 Award-winning playwright Quiara Alegría Hudes will present the 2016-2017 Harry C. Howard Jr. Lecture Feb. 2 at Vanderbilt University's Central Library.
Hudes' talk, "A Writer's Many Selves," will begin at 4:10 p.m. in the library's Community Room.
Hudes wrote The Elliot Trilogy, three standalone plays that trace the coming of age of a bright, charismatic and haunted young man who escapes the "el barrio" in Philadelphia. He becomes a Marine and serves in Iraq before finding his way to adulthood. Each play explores a different kind of music—Bach, Coltrane and Puerto-Rican folk music—to structure its narrative.
Elliot, A Soldier's Fugue was a finalist for the Pulitzer Prize in 2007. Water by the Spoonful received the 2012 Pulitzer Prize for Drama. The third play in Hudes' trilogy, The Happiest Song Plays Last, premiered at Chicago's historic Goodman Theatre in 2013.
Hudes, who was originally trained as a musician, also wrote the book for the Broadway musical In the Heights, which won the 2008 Tony Award for Best Musical. The book received a Tony nomination for Best Book of a Musical and was a 2009 Pulitzer Prize finalist.
Her other works include Barrio Grrrl!, 26 Miles, and Yemaya's Belly, which received The Clauder Prize.
Hudes received the United States Artists Fontanals Fellowship, the Joyce Fellowship at the Goodman Theatre, and fellowships at Sundance Theater Institute and O'Neill Theater Center, among other honors.
Hudes earned a bachelor of arts in music from Yale University and a master of fine arts in playwriting from Brown University.
The Harry C. Howard Jr. Lecture Series was established in 1994 through the endowment of Mr. and Mrs. Thomas E. Nash Jr. and Mr. and Mrs. George D. Renfro, all of Asheville, North Carolina. The lecture honors Harry C. Howard Jr., who earned his bachelor's degree Vanderbilt in 1951, and allows the Robert Penn Warren Center for the Humanities to bring an outstanding scholar to Vanderbilt annually to deliver a lecture on a significant topic in the humanities.
A reception will follow the lecture, which is free and open to the public. For more information, email Terry Tripp at the Warren Center or call 615-343-6060.