Arts and Science alumna is turning a love for literature into a career in art
Jan. 24, 2017, 1:08 PM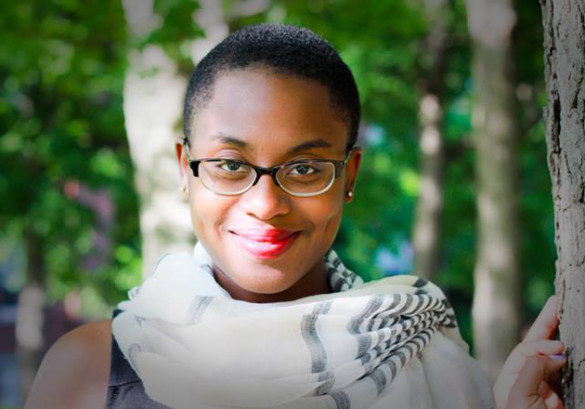 Humanities students often get asked what they plan to do with their degrees. The answer turns out to be "anything and everything." Vanderbilt humanities graduates work in finance, lead nonprofits, and run their own companies.
Lucy Mensah, who graduated with a Ph.D. in English in 2016, is one of the students drawing on her humanities training and taking a path less traveled. Mensah started graduate school in 2011 with the goal of becoming a professor of African American literature. She didn't expect doctoral studies in English to open doors to internships and professional experiences at some of the most prestigious art museums in the country.
With guidance from adviser Vera Kutzinski, the Martha Rivers Ingram Professor of English and professor of comparative literature, Mensah developed a dissertation project focusing on the literary and visual representations of black masculinity. Mensah's passion for studying these representations led her to stints at the Smithsonian's National Museum of American History in Washington, D.C., the Frist Center for the Visual Arts in Nashville, and the Metropolitan Museum of Art in New York City.
"I realized that in a museum setting, I could integrate my scholarly interests with my interest in handling art objects," Mensah explained. "And during my final year of dissertation writing, I realized that I like to do a little bit of everything: write, handle art objects, put together exhibitions, talk to potential donors, and educate museum-goers."
Now in a prestigious one-year fellowship at the Met in the modern and contemporary department, Mensah is one of 65 fellows from all over the globe working with assigned curators who also serve as mentors and advisers.
"I have had the opportunity to learn in depth about museums as an institutional structure," she said. "It requires a lot of different people to work together in varying capacities to make what it does possible."
After completing her fellowship with the Metropolitan Museum of Art, Mensah will take the next step in her career at the Detroit Institute of Art, where she has accepted a permanent position as assistant curator of post-1950 contemporary art, helping with exhibitions, interpretation and acquisitions.
by Alex Valnoski