Media Inquiries
Latest Stories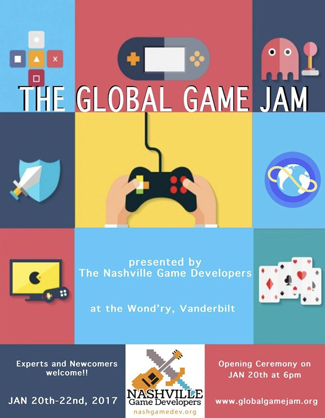 Vanderbilt students, faculty and staff are invited to a Global Game Jam® hack-a-thon at the Wond'ry, the university's innovation center, Jan. 20-22.
Participants will work together to develop a fully operational video game by the event's close Sunday afternoon. The event, hosted in partnership with the Vanderbilt Curb Center for Art, Enterprise and Public Policy and Nashville Game Developers, is being held simultaneously with more than 600 other sites worldwide. More than 100 participants are expected at the three-day event, which, in addition to the Vanderbilt community, will include national and local video game developers.
As described on its website, the Global Game Jam® is the world's largest game creation event and is designed to bring people together to be creative and share experiences by condensing all aspects of the video game development process into 48 hours. The theme of the jam will be revealed on opening night of the event. More than 600 locations in 93 countries participated in the 2016 event, generating 6,866 games. Teams developed 22 games at the 2016 Vanderbilt event.
The event is free and open to the public. No video game development experience is necessary. The Wond'ry is located at 2414 Highland Ave. on the Vanderbilt campus.
See the full schedule and get tickets >