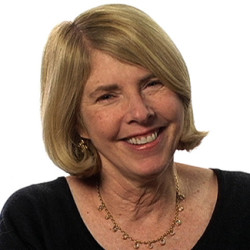 UPDATE: All tickets for the Jan. 31 Chancellor's Lecture featuring Kay Redfield Jamison have been distributed. No-show seating will be filled on a first-come, first-seated basis beginning at 6:35 p.m. Jan. 31.
Noted clinical psychologist Kay Redfield Jamison, whose best-selling memoir An Unquiet Mind chronicled her early experience with bipolar disorder, will speak at Vanderbilt University Tuesday, Jan. 31, as part of the Chancellor's Lecture Series.
Jamison will discuss "Personal and Professional Perspectives on Bipolar Disorder" from 6:30 to 7:30 p.m. in Sarratt Cinema. A reception and book signing will precede the talk from 5:30 to 6:30 p.m. in the Sarratt Cinema lobby. Both events are free and open to the public, but tickets are required to attend the lecture. The free tickets are limited to two per person and must be picked up in advance of the lecture at the Sarratt Student Center Box Office. Tickets will be available beginning Jan. 18. For box office hours of operation and additional information, call (615) 343-3361.
Jamison is the Dalio Family Professor in Mood Disorders and a professor of psychiatry at the Johns Hopkins University School of Medicine. She is a foremost academic authority on manic-depressive (bipolar) illness, also having experienced it firsthand. As she was pursuing a career in academic medicine, Jamison simultaneously found herself succumbing to the same exhilarating highs and catastrophic depressions that afflicted many of her patients. She wrote about her experience in An Unquiet Mind: A Memoir of Moods and Madness, which became a national best-seller.
Other works include Night Falls Fast: Understanding Suicide and Touched with Fire: Manic-Depressive Illness and the Artistic Temperament. Her forthcoming book, Robert Lowell: Setting the River on Fire, is about one of the major American poets of the 20th century and at the same time represents a fascinating study of the relationship between manic-depressive illness, creative genius and character. The book will be released Feb. 28.
Jamison's Chancellor's Lecture is part of a series of events in January designed to further conversations around healthy help-seeking behavior and creating a culture at Vanderbilt in which the stigma of seeking support can be eradicated. The Chancellor's Strategic Planning Committee on Mental Health and Wellbeing is taking a broad look at how best to position Vanderbilt for success in this area in the coming years. A website dedicated to mental health and well-being has been created and points to current resources available to the campus community.
Parking for the Jan. 31 event will be available in the Terrace Place Garage, located on Terrace Place between 21st Avenue South and 20th Avenue North.
The Vanderbilt Chancellor's Lecture Series strives to connect the university and the Nashville community with intellectuals who are shaping our world. For more information about the series, visit the Chancellor's Lecture Series website, email cls@vanderbilt.edu, call (615) 322-0885, or follow on Twitter @VUCLS.