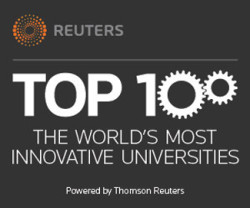 Vanderbilt University has been named one of the world's most innovative universities.
Vanderbilt ranked 20th in the second annual Reuters Top 100, which aims to identify the institutions doing the most to advance science, invent new technologies and help drive the global economy. Vanderbilt climbed 14 spots in the 2016 ranking, up from No. 34 in the inaugural ranking in 2015.
Unlike other rankings that often rely entirely or in part on subjective surveys, the Reuters Top 100 relies exclusively on empirical data, such as patent filings and research paper citations. Its methodology focuses on academic papers, which indicate basic research performed at a university, and patent filings, which point to an institution's interest in commercializing its discoveries. The ranking uses proprietary data and analysis tools from the Intellectual Property and Science division of Thomson Reuters.
"Our 2016 results show that big breakthroughs—even just one highly influential paper or patent—can drive a university way up the list, but when that discovery fades into the past, so does its ranking," Reuters said. "According to our findings, consistency is key, with truly innovative institutions putting out groundbreaking work year after year."
Topping the Reuters 100 for the second year in a row were Stanford University (No. 1), the Massachusetts Institute of Technology (No. 2) and Harvard University (No. 3).
In terms of regional breakdown, the United States continues to dominate the list, with 46 universities in the top 100. Japan is again the second-best-performing country, with nine universities. France and South Korea are tied for third, each with eight. Germany has seven ranked universities; the United Kingdom has five; Switzerland, Belgium and Israel have three; Denmark, China and Canada have two; and the Netherlands and Singapore each have one. The highest-ranked university outside of the United States is the Korea Advanced Institute of Science and Technology, or KAIST, at No. 6.
To compile its ranking of the world's most innovative universities, the IP and Science division of Thomson Reuters began by identifying the more than 600 global organizations—including educational institutions, nonprofit charities and government-funded labs—that publish the most academic research. They then evaluated each candidate on 10 different metrics and ranked them based on their performance.