'The Banjo' musical conversation features Dubois and Flemons
by
Ann Marie Deer Owens
Jan. 16, 2017, 12:26 PM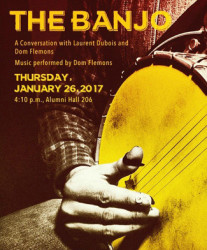 Laurent Dubois, author of The Banjo: America's African Instrument, and Dom Flemons, a Grammy-winning musician who is known as "the American Songster," will come together for a public discussion Jan. 26.
"The Banjo: A Conversation with Laurent Dubois and Dom Flemons" will begin at 4:10 p.m. in Vanderbilt University's Alumni Hall, Room 206.
Dubois, the Marcello Lotti Professor of Romance Studies and History at Duke University, is a specialist on the history and culture of the Atlantic world, with a focus on the Caribbean. His other books include Haiti: The Aftershocks of History and Soccer Empire: The World Cup and the Future of France.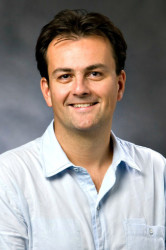 Dubois was among three scholars who created Musical Passage, a digital humanities project that explores the African music performed in Jamaica in 1688 and recorded by British traveler Hans Sloane. Slate magazine included Musical Passage on a list of "Five Fascinating Projects We Loved in 2016."
Flemons is a multi-instrumentalist, singer-songwriter and slam poet who takes a contemporary approach to old-time folk music and other traditional forms to expand the audience for music rooted in history.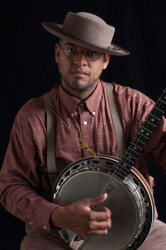 Flemons, who will perform during the discussion, is a founding member of the Carolina Chocolate Drops, an African American string band. The group won a Grammy for the album Genuine Negro Jig and was nominated in 2012 for Leaving Eden.
In 2014, as a solo artist, Flemons released the album Prospect Hill with the Music Maker Relief Foundation, founded to preserve the musical traditions of the South by directly supporting the musicians who make it, ensuring that their voices will not be silenced by poverty and time.
A reception will follow the conversation, which is co-sponsored by the Robert Penn Warren Center for the Humanities and the Africa at a Crossroads: Challenges and Prospects program, a trans-institutional project.
For more information, email Terry Tripp or call 615-343-6060.