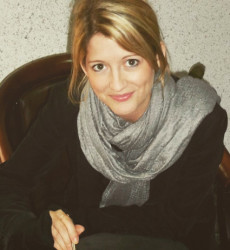 Andrea M. Bordeau, an expert in the field of global safety and security with extensive experience living and studying abroad, has been named to the newly created position of global safety and security manager within Vanderbilt's Global Education Office. She begins Jan. 16.
Bordeau comes to Vanderbilt from the University of Illinois at Urbana-Champaign, where she served as assistant director of international safety and security. As Vanderbilt's global safety and security manager, she will lead the university's safety and security activities related to all undergraduate and graduate student travel away from campus, with a special focus on international travel. She will report directly to Executive Director of Global Learning and Education Susan Barone.
Bordeau will help to develop and implement relevant safety and security practices for handling emergencies and crises involving Vanderbilt students, faculty and staff when away from the Vanderbilt campus. In conjunction with Sabrina Kronk, program manager in the Vanderbilt Travel Office, Bordeau also will take the lead in responding to international emergencies involving students or their program leaders. Her strong background in training faculty will provide a welcome presence for faculty and staff seeking to lead programs away from campus.
"International scholarship and cultural exchange, as well as domestic study opportunities away from our campus, are core components of the Vanderbilt educational experience as identified in the Academic Strategic Plan," Vice Provost for Learning and Residential Affairs Cynthia J. Cyrus said. "Andrea Bordeau will work collaboratively across the university's undergraduate, graduate and professional schools to build and foster awareness of safety and security concerns for these activities, with the goal of mitigating risk and promoting successful global education experiences for all students, faculty and staff."
"I believe training and education are key for best supporting our students and faculty in the programs that will enhance their studies and research," Bordeau said. "[lquote]The idea is not to close doors by being risk averse, but to expand our reach around the world by being prepared to face those challenges.[/lquote] As someone who has experienced the value of living, studying and working abroad, I know firsthand how meaningful it can be."
Bordeau has a master's degree in Middle East history and security studies from Tel Aviv University in Israel. Her master's thesis focused on terror groups and Kurdish nationalism in Northern Iraq. She also earned a certificate from the University of Haifa's (Israel) Intensive Arabic Language Program and holds a graduate degree in African studies from the University of Edinburgh (Scotland), as well as a B.A. in anthropology from Union College in Schenectady, New York.