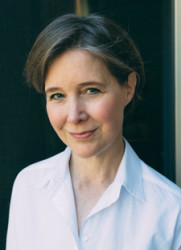 Acclaimed author Ann Patchett will read from her latest novel, Commonwealth, Thursday, Jan. 26, as part of the Gertrude and Harold S. Vanderbilt Visiting Writers Series, which is housed within the English department's Creative Writing Program.
Patchett's reading and book signing, which begins at 7 p.m., will be held in the Vanderbilt Central Library's Community Room.
Patchett has written six other novels—The Patron Saint of Liars, Taft, The Magician's Assistant, Bel Canto, Run and State of Wonder —and three nonfiction books—Truth & Beauty, What Now? and This Is the Story of a Happy Marriage.
Her books have been both New York Times Notable Books and New York Times bestsellers. In addition, Patchett is the co-owner of Parnassus Books and continues to be a prominent voice on the importance of independent booksellers.
Patchett will be introduced by Lorrie Moore, Gertrude Conaway Vanderbilt Professor of English and a distinguished American fiction writer.
Patchett is a graduate of Sarah Lawrence College and the Iowa Writer's Workshop. Among her many awards and fellowships are England's Orange Prize, the PEN /Faulkner Award, the Harold D. Vursell Memorial Award from the American Academy of Arts and Letters, a Guggenheim Fellowship, the American Bookseller's Association's Most Engaging Author Award, and the Women's National Book Association's Award.
"We are delighted to have this great bookwoman in our library," said University Librarian Valerie Hotchkiss. "Ann Patchett is a national treasure not only for her masterful writing, but also for her eloquent defenses of books and reading."
Other writers who will visit campus this spring as part of the series include:
Randall Kenan – Feb. 16
Mark Jarman – Feb. 23
Gary Shteyngart – March 2
Meg Wolitzer – March 23
Ocean Vuong – March 24
Jenny Offill – April 6
Ada Limón – April 20
A reception will follow Patchett's reading, which is co-sponsored by the English department and the Jean and Alexander Heard Library. For more information, email Rene Colehour or call the English department at 615-322-2276.