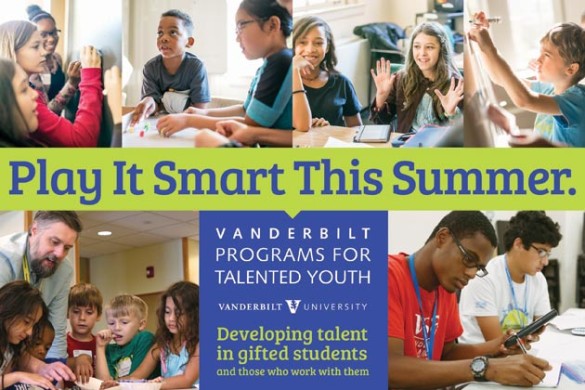 Are you looking for a summer opportunity for an advanced learner in your life? There is no need to look past your own backyard.
Summer Academy at Vanderbilt for the Young (SAVY), a program through Vanderbilt Programs for Talented Youth, offers weekly summer courses Monday-Friday from 9 a.m. to 3:45 p.m. each day for qualifying gifted students in rising first through seventh grades.
Six different one-week session options are available throughout the summer. Students sign up for one SAVY class per session and can enroll in multiple sessions. From computational astrophysics to robotic programming to economics to law school 101, SAVY is bound to have a class that fits your gifted child's interests.
The Summer SAVY 2017 Application Priority Window is from noon Tuesday, Jan. 10, to noon Wednesday, Jan. 11. We strongly recommend applying during this 24-hour window. To learn about eligibility and the application process, visit https://pty.vanderbilt.edu/students/savy/admissions.
Interested in learning more about other student programs offered by Programs for Talented Youth?
PTY provides advanced learners in grades K-12 the opportunity to take accelerated courses in a creative, supportive and rigorous environment on the Vanderbilt University campus. PTY offers fast-paced, accelerated coursework taught by Vanderbilt faculty, scholars and content experts for academically talented and motivated students.
To see all course options for SAVY, or to learn more about Vanderbilt Summer Academy (VSA) for students in grades 8-12, visit the PTY website.