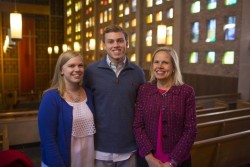 Lillian Harpole Hazelton's Vanderbilt story began nearly 150 years ago. On Oct. 3, 1875, her great-great-uncle John Horatio Clagget was the first student to sign the budding university's matriculation book, becoming Vanderbilt's first official student. He was only 16 years old.
Since that time five generations of Hazelton's family have attended Vanderbilt—and in particular, higher education played an important role for the women in her family. Her mother, Margaret Ann Martin Harpole, BA'52, graduated from Vanderbilt with a degree in biology, an uncommon major for women at the time. Her grandmother's generation also broke barriers.
"[lquote]My grandmother's father, who was a Methodist minister, wanted to make sure all his children got an education, including his two daughters[/lquote]," says Hazelton, BA'79. "My grandmother Luella Hefley Martin graduated from Randolph-Macon Woman's College when women still didn't have the right to vote. Her sister went to Oxford and became the dean of women at Ole Miss."
As a testament to the family's commitment to education, Margaret Ann Harpole established a scholarship at Vanderbilt Divinity School named after her own parents, Luella Hefley Martin and John Marshall Martin Sr. As a devout Methodist herself, Harpole established this scholarship for students preparing for ministry in the United Methodist Church. Today, Hazelton keeps the family tradition alive by making annual contributions to the scholarship.
Colby Long, a first-year master of divinity student, is one of several recipients of the Luella Hefley Martin and John Marshall Martin Sr. scholarship since it was established in 2000. Long spent his four undergraduate years living and working at the Wesley Foundation at Florida State University and Tallahassee Community College. He later took a job at the foundation as its director of ministries. In between he worked as a collegiate life coach at FSU, a job he describes as part therapist, part career counselor.
"A pivotal shift for me at that job was when one of my students came back from break and told me her father had passed away very unexpectedly," Long says. "It made me realize that I was having a hard time without a religious [education] component to my meetings with students, which led me to consider divinity school."
Long knew from the beginning that Vanderbilt's Divinity School was one of his top choices. "Vanderbilt was important to me because it's at the intersection of a lot of critical conversations in theology right now regarding oppressed communities and ministering to the marginalized," he says.
But he also knew divinity school would be out of his reach without financial aid. "My scholarship is why I'm here. I wouldn't be at Vanderbilt if it weren't for it," Long says.
When asked why her mother created this scholarship, Hazelton does not skip a beat. "Mom was so proud of her Vanderbilt heritage," recalls Hazelton. "She asked me to promise that I would encourage at least one of my children to attend Vanderbilt to keep up the direct lineage. She passed away when my oldest was 17, so she never knew that all three of my children eventually would have Vanderbilt degrees in the near future. She would've been so thrilled, though."
Hazelton's eldest daughter, Margaret Ann, graduated with a master of education from Vanderbilt's Peabody College in 2013. Her other daughter, Elizabeth, is working toward her master of accounting through the Owen Graduate School of Management, and is expected to graduate in 2017. Her son, John, is a first-year computer science major in the School of Engineering.
"This university is just in our blood," Hazelton says.
Contact: Becca Jensen
Development and Alumni Relations Communications