Are you the greenest group on campus?
Jan. 4, 2017, 5:06 PM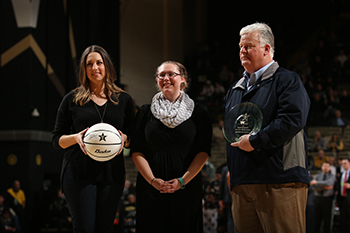 The 2017 basketball sustainability competition, presented by Waste Management, Vanderbilt Athletics, and the Sustainability and Environmental Management Office (SEMO), invites all Vanderbilt groups, teams, departments, classes and campus organizations to compete for the title of "greenest group on campus." Your group could win a catered VIP hospitality event for 20 people, 20 tickets to the game, an autographed item from Vanderbilt Athletics, and on-court recognition at the Vanderbilt vs. Texas A&M men's basketball game on Feb. 16.
Enter by detailing what sustainable actions are routinely implemented in your area to reduce, reuse or recycle; save energy or water; use mass transit and alternative transportation options; or any other innovative sustainability programs going on within your department or organization.
You can fill out the application online or email the pdf application available here to sustainvu@vanderbilt.edu or fax it to 615-343-3883.
Applications are due by Thursday, Feb. 2.
Good luck and Anchor Down!
Contact: SEMO, 615-322-9022
sustainvu@vanderbilt.edu