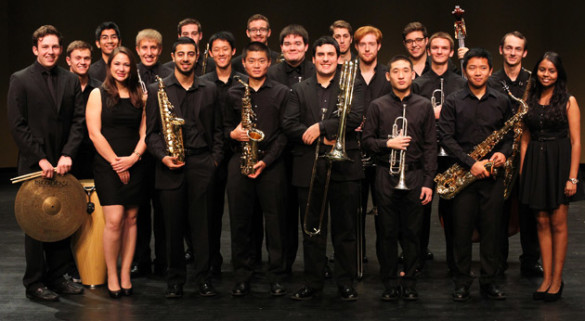 The Blair Big Band, directed by Ryan Middagh, senior lecturer of jazz studies and director of the jazz program at Blair, has been selected to play at the Jazz Education Network national conference in New Orleans Jan. 4-7.
The Jazz Education Network, a global nonprofit based in the United States, is dedicated to advancing jazz education, promoting performance and developing new audiences. JEN has more than 2,000 members in 23 countries, every state of the union and seven Canadian provinces. The annual conference features professional and educational jazz musicians and ensembles, all of whom must submit recordings that are judged by a panel before invitations are made. This is the first time the Blair Big Band has been invited to play at a national conference.
Middagh sent audio recordings in March 2016 on the chance that the band might get in.
"I was not expecting an invitation this year, because I heard through the grapevine that it was the largest volume of applications that JEN had ever received for a conference," Middagh said. The group received the invitation to play in July and has been preparing since then for the performance.
The group will play a one-hour set on the main stage of the festival with a program they previewed during their December concert at Blair. It includes jazz standards such as "On the Sunny Side of the Street" and "Cry Me a River" (with vocals provided by Christina Watson, lecturer in jazz vocal ensemble) as well as pieces composed by Blair Big Band pianist David Rodgers, a senior piano performance major, and Grammy-winner Jeff Coffin, adjunct instructor of jazz saxophone, who will guest on his composition.
The band plays Friday, Jan. 6, on the main stage. Coffin also plays a Friday evening concert at the conference with The Jeff Coffin and Caleb Chapman Inside of the Outside Project, featuring Branford Marsalis, Victor Wooten, Randy Brecker, Kirk Whalum, John Beasley, Rashawn Ross and the Crescent Super Band.
"This is a huge honor for the jazz area and sets the bar high for the program from this point forward," Middagh said. "It has put Vanderbilt and the Blair School on the map in the national jazz music community."