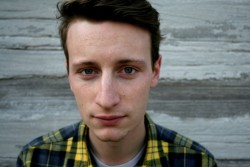 Edgar Kunz, a 2015 graduate of Vanderbilt University's MFA Program in Creative Writing, has been awarded a National Endowment for the Arts (NEA) creative writing fellowship in poetry for 2017.
Kunz is one of only 37 writers selected from more than 1,800 eligible applicants for the fellowship.
Professor of English Kate Daniels, who directs the MFA program, noted that Kunz is the second Vanderbilt MFA poet to receive the prestigious award. "We were thrilled when Anders Carlson-Wee received the same fellowship in poetry for 2015 as a second-year student," Daniels says. "Now we're excited to have another one of our gifted poets receive this extraordinary recognition so early in his writing career."
Originally from Massachusetts, Kunz is now a second-year Wallace Stegner Fellow in Poetry at Stanford University. He earned a bachelor of arts from Goucher College.
His poems have been published in AGNI, The Missouri Review, Indiana Review and Blackbird, among other publications. Kunz previously taught poetry workshops at Vanderbilt and received an Academy of American Poets Prize. His work, along with that of MFA student Tiana Clark and lecturer Lisa Dordal, was selected for inclusion in Best New Poets 2015, a national competition for poets who have not yet published a book of poetry.
"[lquote]The NEA has an excellent record of supporting writers who have gone on to have impressive literary careers[/lquote]," says Amy Stolls, the federal agency's director of literature.
Through its creative writing fellowships program, the NEA gives writers the time and space to create, revise, conduct research and connect with readers. Applications are reviewed anonymously for their artistic excellence. Fellowships alternate between poetry and prose each year.
Vanderbilt's MFA program, housed within the Department of English, continues to be ranked among the top MFA programs in the nation by Poets and Writers magazine.