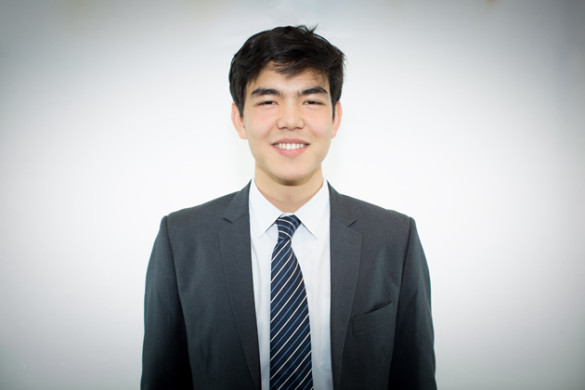 Marc A. Chen, a Vanderbilt University senior majoring in economics and mathematics, has been named a Schwarzman Scholar for 2017-18. Chen is one of 129 men and women selected from a group of 2,747 candidates worldwide representing 30 countries and 75 universities.
Founded by Blackstone Chairman, CEO and Co-Founder Stephen A. Schwarzman and inspired by the Rhodes Scholarship, the Schwarzman Scholars program is quickly becoming a premier training ground for future leaders, educating and preparing exceptional young men and women to confront the most difficult challenges of the coming century and to develop an understanding of China necessary to lead in the future.
Open to students from around the world, the program provides full funding for a one-year master's degree program at Tsinghua University in Beijing, an crucial base for the country's scientific and technological research. Scholars study public policy, economics and business, and international studies while immersed in an international community of thinkers, innovators and senior leaders in business, politics and society.
Scholars were selected through a rigorous and thorough selection process designed to evaluate their leadership experience and potential; intellectual and academic ability, including the capacity to understand emerging trends, design solutions and inspire others to a vision; and strength of character. The applications were reviewed by a distinguished team of readers from around the world, with 373 semifinalists invited for in-person interviews in Beijing, Bangkok, London or New York before international panels composed of CEOs, former heads of state, university presidents, nonprofit executives, journalists and other leaders.
This distinguished group of interviewers who were responsible for selecting the Class of 2018 included Jared Cohen, founder and president, Jigsaw, Alphabet Inc.; David Petraeus, former director of the CIA; Brian Mulroney, former prime minister of Canada; Jeremy Wright, attorney general for England and Wales; Shelly Lazarus, chairman emeritus of Ogilvy & Mather; Rona Fairhead, chairman of the BBC Trust; Cathy Engelbert, CEO of Deloitte; Lionel Barber, editor of the Financial Times; and many others. Of the applicants offered acceptance into the program, 97 percent will join the new class, representing a higher acceptance yield than the most competitive U.S. business and law schools.
Under the supervision of Vanderbilt professor Mario Crucini, Chen is completing an honors thesis exploring the role of public transportation in mitigating urban economic segregation, for which he received a Littlejohn Fellowship.
Chen said the Asian American Student Association has been extremely important to his personal growth during his time at Vanderbilt, especially this past year, when he served as the committee chair for the annual Asian New Year Festival (ANYF). Chen said he wanted the event to speak directly to the personal, historical and social experiences of Asian Americans. In consultation with the ANYF committee and professor Haerin Shin, he created the festival, titled "JOURNEYS: A Re-telling of the Legend of Sun Wukong." This was a significant accomplishment on many levels. "In transforming the event into an exploration of identity that critiqued microaggression and racial/ethnic stereotypes, the piece generated a lasting resonance, establishing ANYF as a critically aware venue for public discourse," Shin said.
Chen was a member of the second class of Mount Vernon Leadership Fellows. He is a Chancellor's Scholar at Vanderbilt and serves as a resident adviser at McTyeire International House.
About Schwarzman Scholars:
Schwarzman Scholars was inspired by the Rhodes Scholarship—founded in 1902 to promote international understanding and peace—and is designed to meet the challenges of the 21st century and beyond. Blackstone Co-Founder Stephen A. Schwarzman personally contributed $100 million to the program and is leading a fundraising campaign to raise an additional $350 million from private sources to endow the program in perpetuity. The $450 million endowment will support up to 200 scholars annually from the United States, China and around the world for a one-year master's degree program at Tsinghua University in Beijing, one of China's most prestigious universities and an indispensable base for the country's scientific and technological research. Scholars chosen for this highly selective program will live in Beijing for a year of study and cultural immersion, attending lectures, traveling, and developing a better understanding of China. Admissions opened in the fall of 2015, with the first class of students in residence in 2016.
Learn more at www.schwarzmanscholars.org, like the group on Facebook at www.facebook.com/SchwarzmanScholars, and follow on Twitter @SchwarzmanOrg.
To assess eligibility and to receive guidance on applying to the Schwarzman Scholars program, contact Lyn Fulton-John or Todd Peterson in the Office of Honor Scholarships.