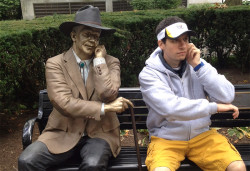 Data scientist Dave Spiegel's career has followed an unusual trajectory. He started out as an astrophysicist studying exoplanets. From there he jumped to a startup, building a health and fitness-tracking device—and now he is working at Stitch Fix, a company that is rethinking the retail clothing industry.
Spiegel will be describing his experiences in these fields and the intellectual threads that tie them together in a physics and astronomy colloquium titled "From Exo-Worlds to Health Monitoring to Clothing Personalization." The talk is scheduled for Thursday, Dec. 8, from 3 to 4 p.m. in Room 4327 of the Stevenson Science Center.
A reception with the speaker will be held at 2:30 p.m. in Stevenson 6333.