Course and teaching evaluations launch Dec. 2
Dec. 1, 2016, 8:00 AM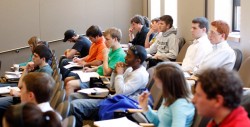 Course and teaching evaluations for the fall semester launch on Friday, Dec. 2, for the Blair School of Music, College of Arts and Science, Divinity School, School of Engineering, Graduate School, and Peabody College. The evaluations will remain open for eight days and end at 11:59 p.m. on Friday, Dec. 9. As previously announced, this marks the launch of a new survey instrument using mobile-friendly software based on the recommendations of a multi-committee review of the university's course evaluation practices.
Faculty are encouraged to set aside class time for students to complete their evaluations.
By setting aside 20 minutes of instructional time, overall survey response rates will increase, and students will have dedicated time to respond to the survey.
Instructors may find it helpful to leave the classroom in order to create a comfortable environment for the students to provide constructive and effective feedback.
With the new software, evaluations can be completed on mobile devices, including smart phones, tablets and laptops. Students should be encouraged to bring a personal mobile device to class or use the iPad Loaner Program at the Jean and Alexander Heard Library.
Students, staff or faculty with questions about course and teaching evaluations should email course.evaluations@vanderbilt.edu.
For general information on course and teaching evaluations, please visit the recently launched Course and Teaching Evaluations website.