Two things many people have a passion for are faith and food. A first-of-its-kind food truck on Vanderbilt's campus is serving up a hip version of both.
Aryeh's Kitchen is the only campus food truck in the United States offering a fully kosher menu, including meat items, like brisket, pastrami, chicken and ox burger.
"There's no place in Tennessee where you can go and buy a kosher meat sandwich or entrée. So this mobile restaurant is a really big step forward for everybody," said Rabbi Shlomo Rothstein, director of Vanderbilt's Rohr Chabad House.
Vanderbilt student Zack Freeling, his father Ken Freeling and Rothstein came up with the innovative idea and received support from the university.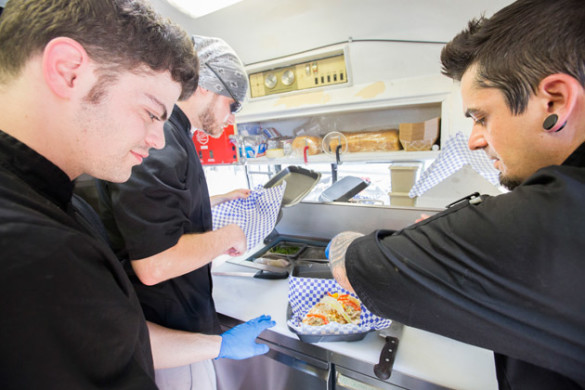 "So many students before couldn't go out to eat at any restaurant or have a place to go for kosher meat, and now they can," Freeling said. "I wanted to make the best food possible within the kosher guidelines."
Kosher literally means "fitting" or "proper" and refers to foods that are prepared in accordance with the Torah's law for food, which includes, among other things, a complete separation of dairy and meat. There's also a lot of supervision from a kosher supervisor, or mashgiach, on the truck.
Freeling, a human and organizational development major, says he's always wanted to be an entrepreneur, and he loves to cook. So this is an ideal combination of both.
Southern flair
Freeling wants Aryeh's Kitchen to attract everyone who loves innovative food. "It's a kosher food truck, but it doesn't define our cuisine," he said.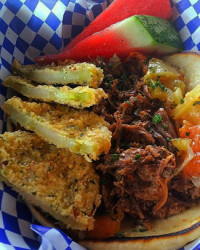 In line with Nashville's hot food scene, Aryeh's Kitchen is pushing delicious food boundaries.
"Being in Nashville, we tried to add a little Southern flair, so we have Southern chicken-fried waffles with a Georgia peach compote; latkes with apple chutney; and brisket, which is a classic Jewish dish, but we cook it with a homemade smoky barbecue sauce and serve it with horseradish aioli and crisp onion threads or fried green tomatoes and tomato chutney," Freeling added.
He employs a small team to keep the menu creative.
"Our brisket is number one, yah," said chef Judge Hagerty. "We smoke it for 16 hours, and we also smoke our tomato paste and other vegetables to make a special sauce. And everything is made from scratch."
Creating community
You'll always find a circle of canvas chairs outside of Aryeh's Kitchen because a major impetus for the food truck was to create a place for conversation and community among people regardless of faith.
"[lquote]Food brings people together in a fun and positive way that very few other things do," Freeling noted.[/lquote]
"Part of our vision was what if we created a meaningful touchstone for community to be built around where people know that the food on the truck is not just made to taste great, it's not just made to be healthy, but it's also made in accordance with a higher principle," Rothstein said. "So it adds this little element of spirituality and little element of mindfulness to the whole eating experience."
And Rothstein says those things have led to lots of interesting conversations among diners.
Cool cat
The food truck is easy to spot because it's a big silver bullet Airstream trailer usually located between Sarratt Student Center and the edge of Greek Row. It has a "cool cat" logo on the side.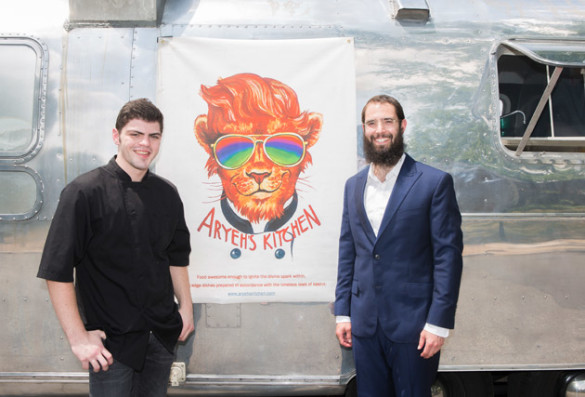 "Aryeh is my Hebrew name. It means 'lion' and was given to me by my father. So it's very important to me," Freeling said. "We thought the logo was a cool play on that."
Food future
Freeling says he's loved his Vanderbilt experience and is planning to stay in Nashville to continue running Aryeh's Kitchen.