Vandy Cooks: Holiday bread making workshop Dec. 9
Nov. 29, 2016, 12:24 PM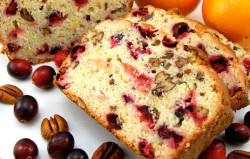 The Vanderbilt Recreation and Wellness Center and Health Plus present the next installment of Vandy Cooks on Friday, Dec. 9. "Holiday Bread Making Workshop" with registered dietitians Marilyn Holmes, Melinda Mahoney and Marissa Wertheimer will be held from noon to 1 p.m. in the VRWC demonstration kitchen.
Have you ever had the urge to bake your own bread? Would you like to savor that wonderful fresh-baked smell just in time for the holidays? We invite you to get in the holiday spirit and attend this hands-on cooking workshop taught by three registered dietitians.
Baking stations will showcase different types of breads and cooking techniques. Participants will receive samples and recipes of the breads prepared during the session, as well as bread to enjoy later.
Holmes, Mahoney and Wertheimer are passionate about sharing their favorite recipes, expertise and personal experiences regarding baking holiday breads. Come, taste and make homemade breads bursting with holiday flavor and nutrition.
To reserve your spot, please email Marilyn Holmes at marilyn.c.holmes@vanderbilt.edu.
The Vandy Cooks demonstrations are offered monthly in the Vanderbilt Recreation and Wellness Center's demonstration kitchen to celebrate healthy eating at Vanderbilt.
Contact: Marilyn Holmes, (615) 343-2638
marilyn.c.holmes@vanderbilt.edu