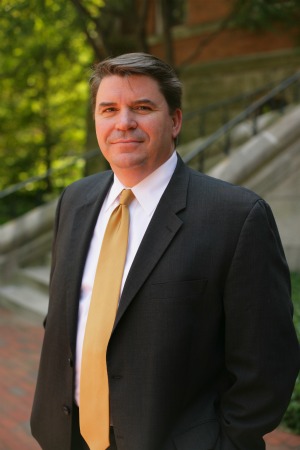 Douglas L. Christiansen, Vanderbilt University's vice provost for university enrollment affairs, has been elected to a second term as chair of the board of trustees for the College Board, the national organization that connects students to college success and opportunity and administers the SAT and AP programs.
Christiansen, also dean of admissions and financial aid, was re-elected in October to the two-year post at the College Board's national meeting. The College Board's bylaws allow chairs and vice chairs to be elected to consecutive terms, but only a handful of chairs have held repeat terms.
"Our goal at Vanderbilt is to enrich and strengthen our university community, making it academically stronger, more intellectually curious, richly diverse and socially involved, and to prepare our students to work together to tackle the big problems facing society. Doug's strategic and visionary work in university enrollment affairs has allowed us to do just that," Chancellor Nicholas S. Zeppos said. "[lquote]By electing Doug to a second board chair term, his College Board colleagues are honoring his commitment to excellence, educational opportunity and access to higher education."[/lquote]
Since Christiansen joined Vanderbilt in 2006, the entering class's quality indicators have dramatically improved. He was instrumental in the development and implementation of the transformative Opportunity Vanderbilt initiative, which in 2009 replaced need-based loans in undergraduate financial aid packages with scholarships and grants. He also has led Vanderbilt's involvement in national college accessibility, affordability and diversity programs.
"The expertise of Doug and his team has transformed Vanderbilt's enrollment process, allowing us to integrate academic systems across the university that support institutional enrollment goals at the undergraduate, graduate and professional levels," said Susan R. Wente, provost and vice chancellor for academic affairs. "As a national leader in the drive to make college accessible and affordable to all capable students, Doug is helping develop the next generation of leaders in this country."
David Coleman, the president and CEO of the College Board, lauded Christiansen's leadership during his first term. "He has played a critical role in guiding our strategic direction and broadening our efforts to deliver opportunity to all students," he said. "I am delighted that we will continue to have Doug's leadership and counsel for a second term."
Christiansen became a College Board trustee in 2011 and was first elected board chair in 2014. He also has served on the National Task Force on Admissions in the 21st Century, the Advanced Placement National Higher Education Advisory Council, the NACAC International Commission, and on several sub-committees and task forces on topics including access to higher education, ethical admissions and financial aid. He led Vanderbilt as a pilot member in the College Board's Access Success Initiative. He is also an associate professor of public policy and higher education at Vanderbilt's Peabody College of education and human development. He has been in higher education and university enrollment management for almost 30 years. He holds a Ph.D. in higher education administration, with an emphasis on budgeting and finance, from the University of Utah, where he also earned master's and bachelor's degrees.
About the College Board
The College Board is a mission-driven nonprofit organization that connects students to college success and opportunity. Founded in 1900, the College Board was created to expand access to higher education. Today, the membership association is made up of more than 6,000 of the world's leading educational institutions and is dedicated to promoting excellence and equity in education. Each year, the College Board helps more than seven million students prepare for a successful transition to college through programs and services in college readiness and college success — including the SAT and the Advanced Placement Program. The organization also serves the education community through research and advocacy on behalf of students, educators and schools.