Readers' Letters, Fall 2016
by
Missy Pankake
Nov. 20, 2016, 4:46 PM
MEMORIAL HALL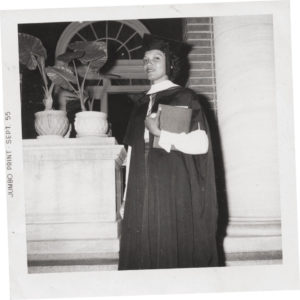 On Aug. 15, 1955, a young woman donned in academic regalia was ready to graduate from George Peabody College and become the first African American ever to do so. She deliberately sought out a classmate to take a picture of her standing on the steps of Confederate Hall. Later, when the film was developed and the photograph was in hand, the young woman penned at the bottom of the image: "Times, they are a-changing" (Josephine Baker).
Sixty years later, the news of the plan to change the divisive name of the hall reminded the Peabody alumna of the time long past when she expressed her sentiment the best way she could by standing on the steps of Confederate Hall and becoming the first African American graduate of the institution. She hauled out an old scrapbook with clippings and photos of that August event.

And she penned to the bottom of an old and yellowing photo, "At last this change has come."
TOMMIE MORTON-YOUNG, MA'55, Nashville
EDITOR'S NOTE: Tommie Morton-Young, Peabody College's first African American graduate, was the 2010 recipient of Peabody's Distinguished Alumna Award.
---
STRONG INSIDE
I enjoyed reading the articles about Perry Wallace in the summer issue ["Strong Inside"]. I had the pleasure of working with Perry during his freshman year, which was my last year as student trainer for the athletic department.
He was a real gentleman, extremely intelligent, and an incredible basketball player. Vanderbilt missed a lot of good talent in the '60s and earlier due to the racist policies of the SEC. Pearl High almost always had a championship team, and we would watch some of their games and lament over the incredible talent we couldn't recruit. Same thing in football. The VU team usually stayed in Nashville over Thanksgiving weekend to practice for the UT game. We would watch the Tennessee State game if they were playing in Nashville and again marvel at the gifted players we were unable to recruit.
Thankfully, the VU community has rectified, however belatedly, the unjust manner in which Perry was treated during his playing days and afterward—and Perry had the character and inner resolve not to let it deter him from being successful.
BOB HAMPSON, BA'66, Felton, California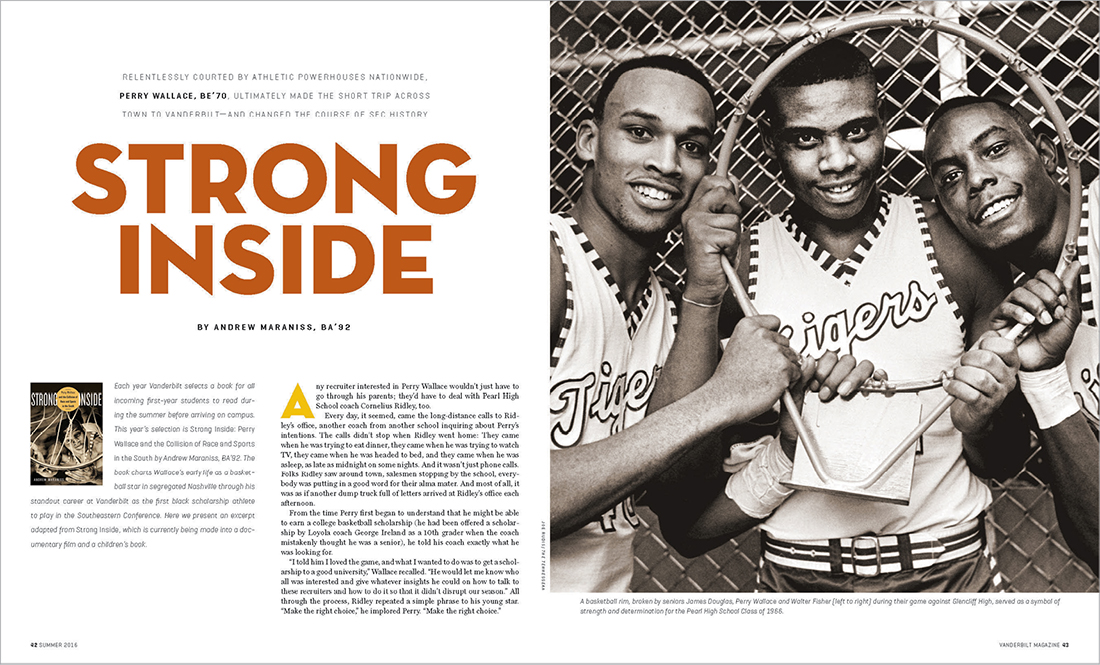 ---
POLITICS AS USUAL?
I try to read each issue cover to cover. Often there are a couple of articles that grab my attention. I typically enjoy the articles that cover some new research Vanderbilt is working on and the advances that Vanderbilt students achieve.

Of course, you took a risk this season by focusing on politics ["Politics (Not) as Usual," Summer 2016]. Quite the divisive topic, so I read Marc Hetherington and Cindy Kam's article with some apprehension. It's rare that you read anything in any type of publication that tries to be fair or complementary to Donald Trump. Their article did not disappoint. But their process was interesting. And to be fair, at least one conclusion was correct. But keep in mind that voting against someone can motivate people on either side of the aisle.
BRUCE KENWORTHY, BE'80, Franklin, Tennessee
---
PROPS!
Way to go, Temple Baker ["Hot Streak," Summer 2016]. This is a great story and update. It is inspiring to watch someone making things happen and chasing opportunities. In a bygone era I too played baseball at Austin High and also attended Vanderbilt. And I thought Dazed and Confused was about my class, too!
WILL ECKERT, BE'84, Springfield, Virginia (From Facebook)
---
RÉSUMÉ GAPS
Thank you for the "Do Tell" article [Research, Summer 2016]. I have several social media communities of military spouses to share it with where I'm sure that information will have a positive impact.
The magazine is fantastic! I have always been proud to be a Vanderbilt alumna; reading the magazine reinforces that pride when I see all the wonderful research and people who are connected to the Vanderbilt community.
MEREDITH REED, MDIV'03, Alexandria, Virginia
---
STAYING CONNECTED
I had a few minutes last night to read the Summer 2016 issue of Vanderbilt Magazine. It ultimately turned into more than an hour as I found myself immersed in all the fascinating stories of Vanderbilt students, alumni, faculty and parents who are making remarkable contributions to the school and to the world. I liked the differentiated articles and profiles—it made for a great way to stay connected to the school.
Congratulations, and thank you for your team's great work.
TOM ROSE, BS'00, Pasadena, California
---
I just wanted to take a brief moment to thank you and your team for the article you published about me and my experience at Vanderbilt [Q&A, "Pastry Protection," Summer 2016]. I have received several calls stating how well people felt the article was done and also stating how impressive they felt Vanderbilt Magazine is. And these calls were not from people I knew personally or who had attended Vanderbilt, but rather from individuals who had picked up copies of their children's editions. Thank you!
CANDICE S. COOK, JD'03, New York City
---
We welcome your letters in response to contents of the magazine. We reserve the right to edit for length, style and clarity. Mail signed letters to Ryan Underwood, editor, Vanderbilt Magazine, PMB 357737, 2301 Vanderbilt Place, Nashville, TN 37235-7737; or send email to vanderbiltmagazine@vanderbilt.edu.
---