Obituary: Peggy Ann Brainerd Way
by
Missy Pankake
Nov. 20, 2016, 4:49 PM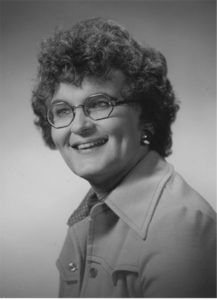 Peggy Ann Brainerd Way, a scholar in pastoral care and the first woman appointed to a full-time position on the Vanderbilt Divinity School faculty, died July 9 in Nashville after a brief battle with cancer. She was 84.
Way accepted a position in pastoral theology at Vanderbilt Divinity School in 1977 from then-Dean Sallie McFague, whose own appointment at the time was only part-time. Previously, she had taught at the University of Chicago Divinity School, where she too had been the first woman with a full-time faculty appointment.
In addition, she was the first of two women to teach at the Jesuit School of Theology in Chicago. She also was the first woman faculty member in a field other than Christian education at McCormick Theological Seminary.
A Michigan native, Way earned degrees from the University of Michigan, Wayne State University and Chicago Theological Seminary before being ordained in the United Church of Christ in 1960. She and her late husband, the Rev. William F. Way, had met and fallen in love while both were social workers. They went to seminary together and were their denomination's first clergy couple to be ordained in a joint celebration. They became co-pastors of Craigin Congregational Church in Chicago, where she also was a community organizer and director of some social welfare agencies serving at-risk neighborhoods.
She earned a doctoral degree in divinity from Christian Theological Seminary and Doane College in 1973, and a Ph.D. from Princeton Theological Seminary in 1979.
A sought-after speaker, lecturer and preacher, Way taught at Vanderbilt from 1977 to 1987. She then taught at Eden Theological Seminary in St. Louis, where she was honored with a distinguished chair for excellence in teaching. After retiring from Eden in 2005, Way returned to Nashville as an adjunct professor at Argosy University, serving as program coordinator for the doctoral program in pastoral community counseling.
"Peggy Way linked two eras in American theological education," says Volney Gay, professor of religious studies, psychiatry and anthropology at Vanderbilt and a colleague during Way's time at Vanderbilt. "She was trained in a period of traditional hierarchies, when men dominated all aspects of training. She came of age as an advocate for welcoming women into every aspect of education and leadership. She matured into a leading voice of expanded equity and spiritual depth for her church, her school and her community."
Way is survived by her daughter, Rebecca Ann Way, BS'82, MEd'86; her son, Steven William Way, BA'84; four grandchildren and two great-grandchildren.
—ANN MARIE DEER OWENS
---