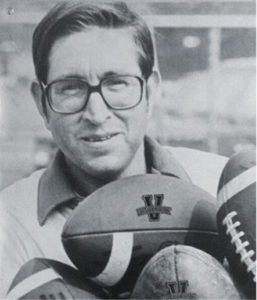 Harold L. Huggins, '65—longtime sportswriter for the Nashville Banner and the son of Vanderbilt basketball player Harold "Skinny" Huggins, BA'34, MA'37—was, above all, a fanatical Commodores fan.
Huggins passed away in March at age 73 from complications of leukemia, and through his generosity, his legacy will live on through the Harold Louis Huggins Basketball Scholarship.
"Harold was frugal and saved his money," says Huggins' sister, Ellen Jewell, BA'68. "He always wanted to endow a scholarship because that's what our daddy did [with the Harold Huggins Memorial Scholarship]. He wanted to follow in his father's footsteps."
Huggins attended Vanderbilt for one year before joining the military. He eventually graduated from Belmont University, where he played on the school's first men's tennis team.
"Harold was as loyal as they come," says Mark Carter, athletics development officer and executive director of the National Commodore Club. "He was a wonderful supporter and fan—and a great man. He did so much for Vanderbilt."
Asked what Huggins' favorite moments in Commodores sports had been, Jewell said he loved them all. "I would say it was when the basketball team went to the Sweet 16 in 1993," she says. "He just loved that team. He was absolutely sky-high."
And when the baseball team won the national championship in 2015? "Oh, good gravy—forgot about that one!" Jewell says. "That was so great, too. He was so happy. He was there with the team in Nebraska. He wouldn't have missed that."
When he wasn't working or watching the Commodores play, Huggins could be found at an area baseball field or gymnasium coaching youth athletics.
"He absolutely loved those boys," Jewell says. "He coached underprivileged kids for years. He would pick them up at home and take them back home after practice. It was such a big part of his life.
"His two great loves were coaching and Vanderbilt."
---