Media Inquiries
Latest Stories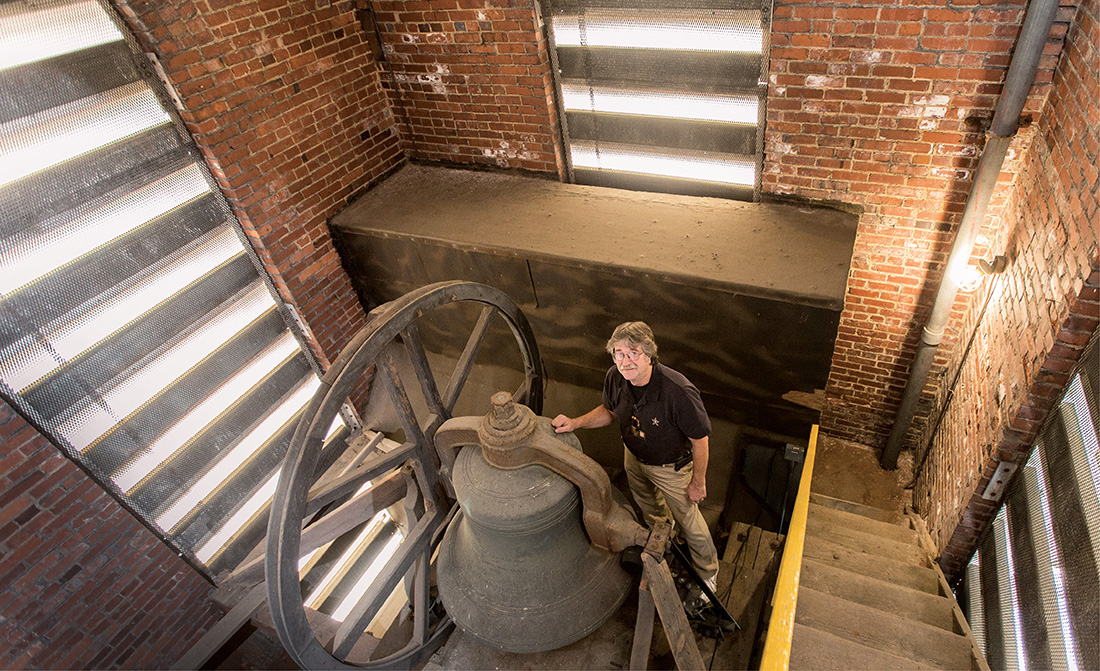 BY GAYNELLE DOLL
If there's one thing you can count on at Vanderbilt, it's the Kirkland Hall clock tower, visible from almost anywhere on campus. For the past 110 years, the hourly tolling of Kirkland Hall's signature bell has alerted generations of students that they've overslept for economics class or that kickoff was imminent.
And for more than a third of those 110 years, the task of keeping the tower's clock ticking—and its 2,000-pound bell in good working order—has fallen to Paul Young. Young is proof that history belongs not only to historians, but also to those who risk perilous climbs in order to oil gears and spring forward or fall back.
Officially speaking, Young is a Vanderbilt facilities manager; unofficially, he's Kirkland's clock tower keeper. He rings the bell to mark somber occasions like 9/11. He figures out how to repair the arcane machinery when things stop working. He even gives occasional tours up the tower's 234 steps.
"After 40 years, I sort of feel that it's mine and nobody should go up there without me," Young says. "The clock tower is Vanderbilt, so to speak."
A Nashville native, Young had just graduated from McGavock High School when Peabody College hired him as a heating and air conditioning apprentice. His goal was to be an electrician. After Peabody merged with Vanderbilt University in 1979, "An older gentleman named Charlie Jones took me under his wing," Young remembers. "He and another electrician named Ralph Hodges were getting tired of climbing the Kirkland tower steps."
That's when the job fell to Young.
THE MAKING OF A LANDMARK
Construction on what is today Kirkland Hall began in 1874 shortly after the university's founding. First known as Main Building, the original structure had two towers, one of which featured a four-faced clock. In 1905 faulty wires sparked a fire that gutted the building and left only one partial tower standing. While the single tower was the most expensive part to rebuild, the children of Vanderbilt faculty raised $553 to purchase a bell to accompany the newly installed Seth Thomas Co. clock.
The Kirkland clock tower has graced more student-recruitment brochures and yearbook covers and fundraising mailings than any other Vanderbilt image. Such an icon is bound to tempt iconoclasts, and the clock tower has weathered its share of stunts.
"There used to be a carillon system that played music through loudspeakers at the top of the tower," Young says by way of example. "It was like an old player piano with perforated rolls, and we played music every day at noon."
Until, that is, pranksters broke into the system (then housed in Alumni Hall's basement) and blasted out their own, less uplifting musical selection. Young doesn't remember what the song was—only Chancellor Joe B. Wyatt's reaction.
"That was the end of the carillon system," he says. "We shut it down."
Another time, some death-defying jokester climbed the tower and gave the clock Mickey Mouse hands.
Although he is asked about ghosts in the tower from time to time, Young says, "I've been here all hours of the day and night, and I've never heard a ghost." A few years ago while giving a tour, he met a man who told him about long-ago Vanderbilt students tapping into what was essentially a telephone line with a microphone and projecting a ghostly voice.
Vanderbilt historian Paul Conkin, MA'53, PhD'57, writes in Gone with the Ivy about a student prank in 1959 in which four members of the senior class wired the tower's carillon to the student-run radio station and declared themselves the "ghost" of Kirkland Hall before playing some exotic drumbeats. Ostensibly, the students were protesting new rules governing fraternities, as well as pressure to contribute to the senior class fund.
Nowadays, students can claim a Kirkland tower connection without risking disciplinary action—or bodily injury. In a tradition started three years ago, before graduating students receive their class rings, the entire shipment spends the night stowed away in Kirkland's tower before being distributed to their new owners. Sarah Quinn, BA'05, associate director of student–alumni engagement for Vanderbilt Development and Alumni Relations, says her office wanted to create something with more meaning than simply ordering a class ring and receiving it in the mail a few weeks later.
"We chose Kirkland tower because it's the most recognizable building on campus and students know it as a place that's off-limits to pretty much everyone on campus, so it has a little mystery to it," Quinn explains. "The rings are taken up to the tower by the president of our Student Alumni Board and placed in a lockbox. The next day they are retrieved and brought to a table in front of Kirkland Hall where the students come to collect their rings."
Young worked with Quinn's team to develop the tradition, and he continues to help coordinate logistics each year.
FOR WHOM THE BELL TOLLS
For students of a quieter era, before there were six lanes of West End Avenue traffic and interminable construction, before earbuds and cellphones blunted the sounds of the campus itself, the bell's tolling was hard to miss. Shortly before his death last year, Allen Shoffner, LLB'52, shared memories about the Kirkland bell in his book The Adventures of a Tennessee Farm Boy: A Journey from the Farm to the Courtroom (2012, AuthorHouse).
In Shoffner's day, classes for Vanderbilt Law School were held on the top floor of Kirkland Hall. "This clock was not a carillon or bell designed to provide students entertainment or mellifluous music for relaxation from studies," Shoffner remembered. "This was a clock with a heavy metallic gong, sounded every hour on the hour, which could be heard over the entire campus to remind students to get to work. So, I spent most of my time for the next two years under the clock in a legal monastery."
Like all grand dames, the clock tower has had work done. In 1966 the clock was motorized with what Young calls "a little bitty motor attached to a lot of gears." In 2013, after the clock suddenly stopped, Young contracted the same venerable company Vanderbilt had used in 1966—Verdin Bells & Clocks of Cincinnati—to refurbish it.
Prior to 2013, Young climbed the tower twice a year to adjust the clock the night before the change back and forth to Daylight Savings Time. "The Methodists across the street like to hear the bell on Sunday mornings when they come to church," he says, "so we've always made sure it rings correctly."
The 2013 repairs included a new shaft, new machinery and rewiring. "Everything runs electronically now," says Young, adding that these days, the clock and bell are virtually maintenance-free. Young sometimes hears the Kirkland bell while working in Rand or Sarratt or the residence halls. And he still gives the occasional clock tower tour.
"The motor doesn't work anymore, but we left it in the tower," he says. "It's a nice conversation piece. Someplace in Vanderbilt's archives are the original rope and wheel that made the bell ring before 1966. I've always thought it would be neat to clean it up and display it in Kirkland Hall."
After Vanderbilt had the new clockworks installed three years ago, Young says, a glitch caused it to ring at one o'clock, and then it "just kept ringing." The system wasn't designed for the bell to ring every hour, seven days a week, he explains, so Verdin made an adjustment to get the bell ringing properly again.
"They said Vanderbilt was just about the only customer who wanted a bell ringing 24/7," Young remembers. "I told them we like our bell to ring around the clock."
---
GayNelle Doll, a native Iowan, is former editor of Vanderbilt Magazine. She retired in 2015 and lives in Nashville.
---
Join Paul Young on a rarely experienced climb up the Kirkland Hall clock tower:
---