Boston Red Sox pitcher and former Vanderbilt student-athlete David Price will give $2.5 million to support the baseball facilities project at Vanderbilt, the university announced today. Price's contribution serves as both the largest gift to the project and its capstone, effectively completing the $12 million fundraising effort.
"Student-athletes who go on to achieve success and represent the university in the exemplary manner as David Price has are a testament to the truly special program Vanderbilt has developed under Coach Tim Corbin's leadership. It's not just that some of baseball's greatest players have emerged from Vanderbilt. These amazing young men also continue to value and honor our university community in many important ways," said Vanderbilt Chancellor Nicholas S. Zeppos. "I am deeply grateful to David and his fellow donors for their generosity and for, yet again, making our Commodore Nation so proud."
---
The baseball facilities project has drawn outstanding support from Vanderbilt baseball alumni – members of Coach Tim Corbin's "extended family." Sixty percent of those who have played under Corbin during his Vanderbilt tenure contributed to the current facilities project. Overall, contributions from more than 245 donors turned the project vision into reality.
"Our baseball program is about building young men to lead in their chosen field, may it be baseball, business, public service or another calling," Corbin said. "The fact that so many of these former student-athletes have chosen to give back significantly and early in their careers is remarkable and humbling. I am grateful to David and to all of the donors who came forward to support this project and our vision for developing student-athlete leaders."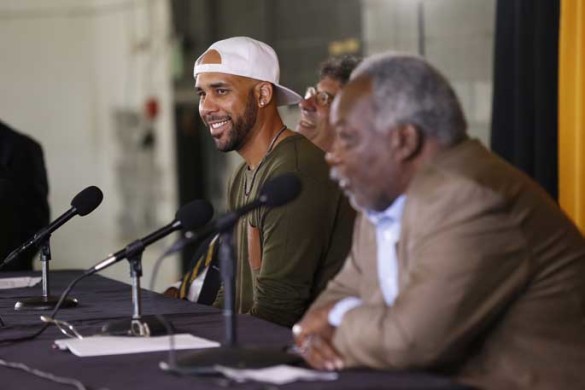 Aligning with the university's core mission to educate, the baseball program is squarely focused on the teaching and learning experience to develop student-athletes. The project will include enhanced space in Memorial Gym for instruction, teambuilding and training for both current baseball student-athletes and returning professional players.
The new 30,000 square-foot facility will also house open air batting cages, a weight room and cardio areas, as well as new offices and operations spaces that overlook Hawkins Field and serve as the left field wall. A new locker room for former players will offer an improved space for offseason training. Additionally, the project will overhaul the existing team clubhouse by renovating the team locker room, expanding the team lounge and reconfiguring the second floor as an open multipurpose space.
Price was the consensus national player of the year in 2007, leading the Commodores to the nation's No. 1 ranking for 16 weeks during the memorable season. He became Major League Baseball's No. 1 pick in the 2007 draft and now is the marquee starter for the Red Sox.
"David Price has always been about helping make others better," said David Williams, Vanderbilt athletics director and vice chancellor for athletics and university affairs. "And he has never forgotten Vanderbilt. He has a passion for his extended Commodore family and his leadership with this project is not only important to the future of our baseball program but says everything about his generosity and values. He personifies the excellence we strive to attain at Vanderbilt University."
The five-time Major League All-Star and 2012 American League Cy Young Award winner has remained in close contact with the university and the baseball program, attending games when possible, encouraging from afar through calls, texts and social media and returning to campus to train in the off-season. Price is a member of Vanderbilt's Hall of Fame Class of 2015.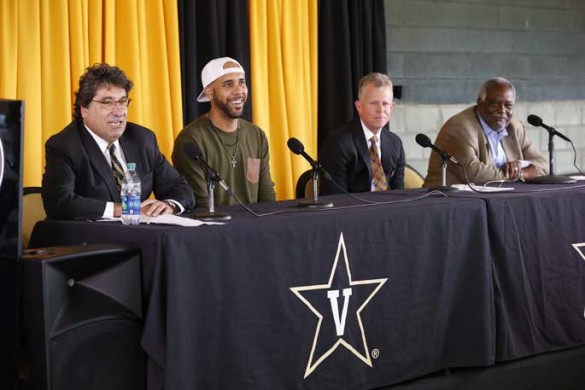 "I would not be where I am today, as a person or as a player, without the guidance, education and support I received from Coach Corbin and from Vanderbilt," Price said. "I am honored to be part of this project, which will support the current players and also provide a place that allows us all to come back to campus and stay in touch and involved with the program."
Construction began on the project in May. The majority of the project is scheduled for completion near the end of the 2017 season. Renovations to the clubhouse will begin at that time with an estimated completion date of Spring 2018.
"It has been remarkable being part of this program and watching its success, both on and off of the field, under Coach Corbin's leadership," John Ingram, a member of the Vanderbilt University Board of Trust and chair of the Athletics Committee, said. "We are thrilled to have surpassed our fundraising goal for this important project and deeply grateful to all who stepped forward in significant ways to make this project a reality."
For more information about the project, visit vu.edu/baseballfacilities.