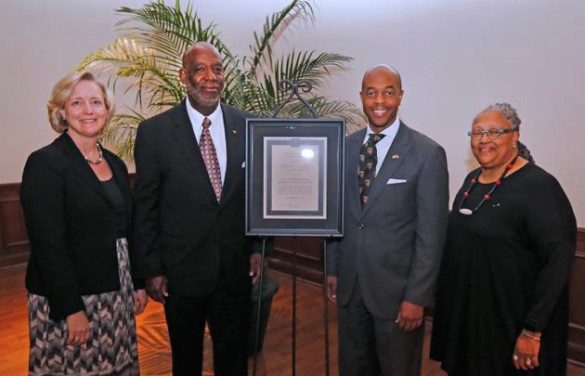 The Rev. Harold M. Love Jr. and the Rev. Edward A. "Monk" Malloy were both praised for their visionary leadership and commitment to social justice as they were awarded the 2016 Vanderbilt Divinity School and Graduate Department of Religion Distinguished Alumni/ae awards Nov. 15.
Malloy, president emeritus of the University of Notre Dame and an emeritus member of the Vanderbilt Board of Trust, earned a doctorate in theological ethics from Vanderbilt in 1975.
Love, a pastor and state representative for District 58 in the Tennessee House, received a master of theological studies from the Divinity School in 1998. Since October 2002, he has served as pastor of St. Paul A.M.E. Church in Nashville.
The Rev. Emilie M. Townes, dean of the Divinity School, noted the importance of recognizing alumni with extraordinary achievements during her remarks at the celebratory dinner and ceremony. "We never want to forget those who have come before, those who have gone out, and those who have blazed trails for those now here to follow," she said. Townes is the E. Rhodes and Leona B. Carpenter Professor of Womanist Ethics and Society.
The Rev. Forrest Harris, associate professor of the practice of ministry and director of the Kelly Miller Smith Institute on Black Church Studies, cited Love for his "compassionate politics" during his introduction of the state lawmaker. "We are blessed in Nashville to have Rep. Love, who has a lengthy list of distinguished accomplishments," Harris said. "These include serving on the board of trustees for the 18th Avenue Family Enrichment Center and the Tennessee State University Foundation and creating a summer leadership academy for boys that promotes responsible citizenship."
Love thanked his professors, including Eugene TeSelle, Douglas Knight and Lewis Baldwin, for their support and encouragement to pursue social justice issues. "It's that compassion that I learned here at Vanderbilt that calls me to speak," Love said. He also said that his Vanderbilt education has shaped his priorities in his legislative service.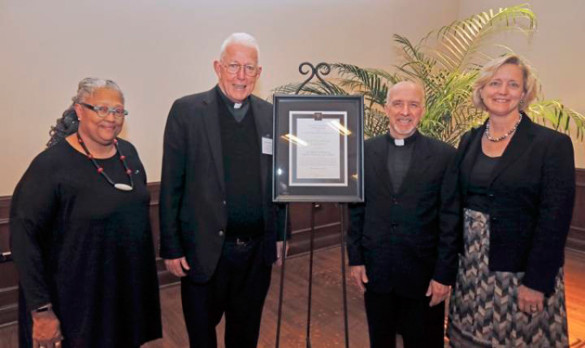 Malloy was introduced at the dinner by the Rev. Bruce T. Morrill, who holds Vanderbilt's Edward A. Malloy Chair in Catholic Studies. "Father Malloy distinguished himself in advancing Notre Dame's reputation, faculty and resources while also proving to be an active leader in the wider arena of higher education, serving on multiple boards and associations concerned with the advancement of Catholic colleges and universities, U.S. higher education, collegiate athletics, as well as multiple foundations concerned with the health, welfare and education of youth," Morrill said. "Father Malloy's particular concern over combating substance abuse has found him advising not only numerous volunteer organizations, but also governmental officials at the state and national levels."
Malloy thanked Vanderbilt faculty for their beneficial influence on his vocational path, noting that both he and Love were taught by TeSelle. "When I set forth from this campus to become eventually the president of Notre Dame, I saw it as my responsibility to bring a lot of the spirit of Vanderbilt University, and particularly the Divinity School, into the way I thought Notre Dame should evolve as a distinctively Catholic university but a welcome place to people of every background—religiously, ethnically and every other possible way," he said.
The Edward A. Malloy Chair in Catholic Studies was established by Vanderbilt Divinity School in 1998.
Malloy said that he was grateful to Vanderbilt for the opportunity to study the important issues and "to be informed by the best thinking of the day and then to try to bring it into the lives of the students who are entrusted into our care."
Previous Distinguished Alumni/ae Award recipients have included James Lawson, Becca Stevens, Bishop Joseph Johnson Jr., Fred Craddock, Gardner Taylor, Thomas W. Ogletree, Charlotte Hotopp Zachary, James Crenshaw and Kenneth Robinson.