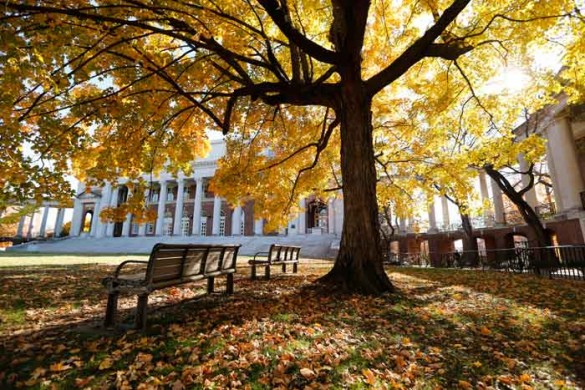 Twenty-five Tennessee assistant principals were selected to participate in a one-year fellowship to help build a pipeline of highly-trained school principals and improve school effectiveness statewide.
The assistant principals comprise the second cohort of the Governor's Academy for School Leadership (GASL), a recent partnership of the state of Tennessee, Vanderbilt University's Peabody College of education and human development, and local school districts. The fellowship begins January 2017 and runs through December.
"The Academy has had a successful first year, and we have been pleased that our fellows have expressed enthusiasm about their experience," said Camilla P. Benbow, Patricia and Rodes Hart Dean of Education and Human Development. "We are excited to welcome a second class of fellows and mentors as we continue the important work of strengthening leadership in Tennessee schools."
GASL participants attend monthly group training sessions and a weeklong summer institute at Vanderbilt where they learn from Peabody education faculty who are nationally recognized for groundbreaking research on school leadership, principal effectiveness and school improvement.
Additionally, each assistant principal is assigned an experienced principal to serve as their mentor. They meet regularly and take part in an internship three days a month at their mentor's school. At the conclusion of the fellowship, the participants are expected to pursue placement as a school principal in their district or region.
The participants are nominated by their district's director of schools and selected through an application and interview process conducted by representatives from the Governor's Office, the Tennessee Department of Education and Peabody College.
The 2017 GASL participants are:
Courtney Whitehead, Carpenters Middle, Blount County
Justin Whittenbarger, Homestead Elementary, Cumberland County
Andrea Bledsoe, Charlotte Elementary, Dickson County
Sarah Gray, Mosheim Elementary, Greene County
Lindsay Starnes, Calvin Donaldson, Hamilton County
Cameshia Emerson, Bolivar Central High, Hardeman County
Krista Mann, Rogersville Middle, Hawkins County
Victoria Perry, Humboldt Jr. & Sr. High, Humboldt City Schools
Melanie Simpson, Piedmont Elementary, Jefferson County
James Wernke, Ross Robinson Middle, Kingsport City
Joann Bost, Carter Middle, Knox County
Ashley Booher, Gibbs Elementary, Knox County
David Ayers, Lara Kendall Elementary, Lake County
Patty Franks, Summertown Elementary, Lawrence County
Emma McWeeney, LEAD Southeast, LEAD Public Schools
Danielle Beckman, Forrest Middle & High, Marshall County
Shavoncia Watts, E.A. Cox Middle, Maury County
Marquis Churchwell, Joelton Middle Prep, Metro Nashville Public Schools
Celia Jolly, Overton High, Metro Nashville Public Schools
Sandra Paschall, Rhea Elementary, Paris Special School District
Chelsea Spaulding, Riverdale High, Rutherford County
Holly Kidder, Sweetwater Jr. High, Sweetwater City
Nathan Wade, Union County High, Union County
Bethany Wilson, West Wilson Middle, Wilson County
Candice Miller, Georgian Hills Elementary, Achievement School District
Click to see a list of the first GASL participants.
Read about Gov. Bill Haslam's recent visit with the GASL participants.