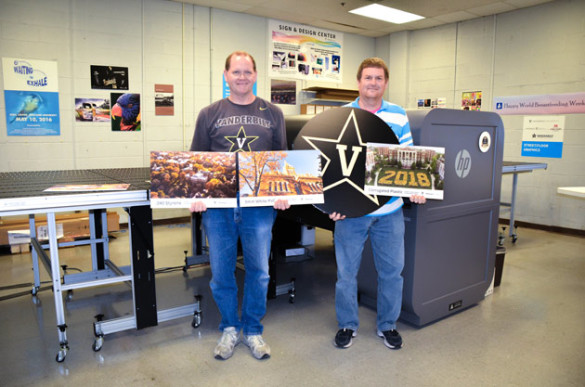 Vanderbilt University Printing Services has expanded its in-house signage and wide-format graphics capabilities. Printing Services can now produce outdoor banners, wallpaper and graphics, static clings, floor graphics, vehicle wraps, fabrics and textiles, and much more.
Printing Services' new UV printer is capable of printing on rigid media, such as outdoor yard signs; interior directional signage; nameplates; and other hard surfaces.
"This device is remarkable, because we can print signs up to 4-by-8 feet and up to 2 inches thick. We've tested on some pretty interesting materials including plywood, and the color quality is still excellent," Sean Carroll, director of Printing Services, said. "We are hoping someone wants to try printing on ceiling tiles for their office, because I'd love to show that off as a sample of our work."
If printed on the right material, all output is designed to last up to four years and is weatherproof and scratch resistant, Carroll noted.
Recent examples of Printing Services' work include the refreshed interior signage in the Baker Building and new acrylic "privacy" notice signs for Vanderbilt University Medical Center clinics.
For long-term exterior signage, engraving and cut-vinyl lettering and graphics, Carroll still recommends contacting the Sign/Key Shop in Plant Operations.
Printing Services provides Vanderbilt University with end-to-end solutions for printed communications and a commitment to delivering economical results, superior quality and outstanding customer service.
To get started on a signage project for your department, contact Printing Services for a consultation. The department can be reached at 615-936-4544 or online at printingservices.vanderbilt.edu.