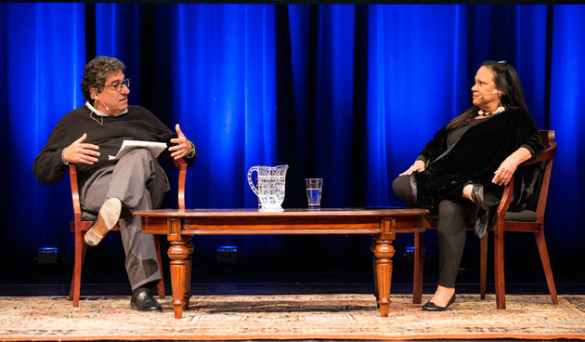 Vanderbilt Chancellor Nicholas S. Zeppos and Writer-in-residence Alice Randall gathered in Langford Auditorium Wednesday evening to discuss Alexander Hamilton, the statesman's—and Hamilton, the hit musical's—influences on contemporary American politics. But it was the previous day's momentous presidential election that pervaded the conversation.
"As I walked across campus today, I saw people of many faiths, many races, and the socioeconomic diversity that we strive for," Zeppos recalled. "I thought to myself, this is a work in progress, but it is a kind of vision of Vanderbilt that we are striving toward—more inclusive, more equitable, more diverse, more global. We see talent everywhere, and opportunity has to be truly equal for everyone."
Zeppos said he also detected anxiety. People are asking, "Am I really welcome? Am I a part of the community? Even on Vanderbilt's campus," he said.
"[rquote]I'm a big believer in the power of education. I'm a big believer in the fight for the right to vote. I've become, maybe in my old age, a person of choosing love, choosing sometimes painful courage, and the privilege of learning.[/rquote] And I think those things are all in people's minds and powerfully on the table right now," he said.
A self-proclaimed Hamiltonian since his college days, Zeppos has taught for the past decade an undergraduate Vanderbilt course on The Federalist Papers, a collection of 85 articles and essays written by Alexander Hamilton, James Madison and John Jay promoting the ratification of the United States Constitution.
"Alexander Hamilton, for me—there was something that captured me about this immigrant who comes from the Caribbean, who was illegitimate, who got a scholarship to go to college, and who had a vision for America that was very different," he said.
Randall, a writer-in-residence in Vanderbilt's Department of African American and Diaspora Studies as well as a novelist, screenwriter and award-winning songwriter, said a lyric from the Hamilton musical had resonated with her throughout the day.
"John Laurens is in South Carolina, redefining bravery / we won't be free till we end slavery," Randall recited, referring to Hamilton's close friend and fellow aides-de-camp to Gen. George Washington in the Continental Army.
"Hamilton was about many things, but one of the things was the powerful friendships that helped him be his best self," Randall said. "Laurens was a man who was born to a wealthy slave-owning family, but he chose to be one of America's staunchest abolitionists against his own self-interests.
"I think that for me today, we deal with the real, but we strive for the ideal. And that's Vanderbilt, and I hope that's America—dealing with the real, striving for the ideal," said Randall, who is preparing to co-teach with Zeppos a course on The Federalist Papers at nearby Fisk University.
"Like for you, for me this is about love," she told the chancellor. "And my radical political act—and I think it was similar to Hamilton's radical political act—is to love everyone in this country as an active part of loving this country."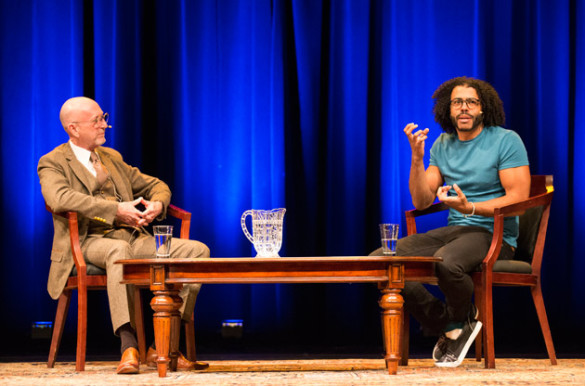 Their talk preceded an event featuring Daveed Diggs, who won the 2016 Tony Award for Best Featured Actor in a Musical for his roles as "Thomas Jefferson" and "Marquis de Lafayette" in Hamilton's original Broadway production. In a conversation moderated by Associate Professor of Musicology James Lovensheimer, Diggs reflected on the show's unprecedented critical and commercial success as well as theater's visceral, communal power to heal.
Hamilton doesn't just belong to the show's performers, Diggs said, but to everyone in the theater who experiences it. "It belongs to all of us. It becomes this very sort of communal experience where all of us are here trying to reimagine the creation of the country. All together, everyone who is in this room right now is doing the same thing—trying to relive what it was like to start America," he said.
"That is fascinating and important to take in, but it's also what theater is supposed to do," he continued. "We all have to come together and deal with the thing in real time. Every piece of baggage that you have from your whole life that you walk into the theater with, you bring that with you to the experience. And we are feeling that on stage—we're bringing all of the baggage from our whole lives and everything that happened to us that day, too. That's not unique to Hamilton—that is what theater does."
Hamilton is an optimistic show, Diggs noted, as is the very existence of the United States. "What Hamilton really says is that you are not going to be happy with everything that happens, but if you actively participate, it works. … Part of the experience is watching Hamilton and his contemporaries accomplish so much, but also whatever side of the thing they believed in, they believed in it enough that they participated to the fullest extent," he said. "They made it a part of their life's work to participate in the creation of this country."
Diggs' appearance was sponsored by the student-organized Vanderbilt University Speakers Committee, whose programs seek to encourage thoughtful reflection and dialogue on contemporary issues in order to promote and strengthen the intellectual environment at Vanderbilt.