Media Inquiries
Latest Stories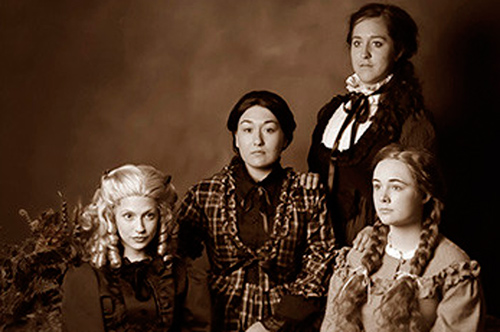 Little Women, one of the most popular novels ever published, first appeared 148 years ago and since that time has never been out of print, spawning several sequels during author Louisa May Alcott's lifetime.
Similarly, American composer Mark Adamo's opera Little Women, based on Alcott's novel, has seen more than 100 productions since it was first workshopped by the Houston Grand Opera in 1998. It is that rare achievement—a hit contemporary opera loved as much for its artistic vision as for the popularity of its story.
Vanderbilt Opera Theatre and Vanderbilt University Orchestra will present Little Women in Ingram Hall on Friday, Nov. 11, and Sunday, Nov. 13. Composer Adamo will give a talk at 7:15 p.m. prior to the Friday evening performance.
"Alcott was as flummoxed about writing the novel as I was about writing the opera," Adamo said. "The publishers wanted her to write Hans Brinker for girls, and she said, 'Have you read my short fiction? It's quite melodramatic.'"
Nevertheless, Alcott succeeded in portraying the close relationship among the four March sisters so well that fans and the publisher insisted on a sequel, the less interesting Good Wives, which focuses on the sisters after marriage. Most adaptations to film and previous musical attempts cut this part of the March sisters' story.
As did Adamo. First asked to adapt the novel as an opera in 1996, Adamo withdrew from the project after the director rejected his approach, which was based on Jo's conflict with the passage of time and the changes it brought to her family rather than the episodic nature of the novel.
"When I took it to the original company, I told them I understood why we keep reading this book over and over again and why we remake it. [rquote]We remake it because we haven't gotten it right—it's not about the men," Adamo said. "It's a love story with four protagonists, and they are Jo, Meg, Beth and Amy.[/rquote] No matter how much any person with a Y chromosome gets to sing, he is there to facilitate the girls' journey and not the other way around.
"The novel Little Women sets the template," he said. "If you look at Mary McCarthy's The Group or the television program Sex in the City, this idea that you have a group of women who are sisters in all but name and they negotiate growing up, getting involved with men, and leaving home for the big city, and that group of women gives them not only the strength but the vision to figure out who they should become going forward, I think it began with Alcott's Little Women."
Adamo ultimately found a place for the work in Houston, and from there it has become one of the most frequently performed American operas. It was the first opera written by the composer, and The New York Times called it a masterpiece when produced by the New York City Opera in 2003. It also has enjoyed numerous international productions, including serving as the official U.S. cultural entrant to the 2005 World Expo in Tokyo.
Adamo's creative approach to the piece was rooted in his years as a playwriting student at New York University. He later graduated from Catholic University with a degree in musical composition.
"What do words and music have in common with telling a story? It occurred to me that it was the acting," he said. Using stage actress and teacher Uta Hagen's method from her text Respect for Acting as a model, he created several outlines that got to the core of the characters' actions and the subtext of those actions before ever writing a word or a note. Then he continued with a verbal outline and a music outline before embarking on drafts for the libretto and score.
"Outline until you cannot outline anymore," he advised. "It's amazing how much you can rewrite before you write. That's the method. If you do it correctly, the feeling should not be that the words or music, one or the other, is driving it. They are two things so adjoined at a mitochondrial level that the audience shouldn't have the sense of a text being set or underscored by music. They are one thing."
Little Women has proved quite popular in college and conservatory settings as well as on professional stages. "In many ways college singers are at the ideal age to perform it, because they're living what the show is about," Adamo said. The show originally was written for the young artist program at Houston Grand Opera—HGO Studio—and the range of music in the piece provides a capsule history of musical thought across the past two centuries.
"If you can sing Little Women," Adamo said, "you can sing anything. There's a whole range of musical approaches in this one score that will occupy collegiate singers the rest of their artistic lives."
Little Women is presented by Vanderbilt Opera Theatre, directed by Gayle Shay, and Vanderbilt University Orchestra, conducted by Robin Fountain, in Ingram Hall at the Blair School of Music at 8 p.m. Nov. 11, and at 2 p.m. Nov. 13. The composer will give a talk at 7:15 p.m. prior to the Nov. 11 performance.
Sponsored by the Mary Cortner Ragland Master Series Fund and presented with gratitude to the parents of a Blair graduate for generously supporting the school, this event is free and open to the public. Free parking is available in West Garage (2500 Children's Way) through the Children's Way entrance.