Media Inquiries
Latest Stories
Hispanic Theological Initiative celebrates 20 years
The opportunity to learn from Latino/a role models in the academy and in the world is among the benefits of being a Hispanic Theological Initiative (HTI) fellow, according to two recipients in the Vanderbilt Graduate Department of Religion.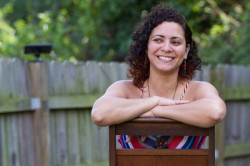 Lis Valle-Ruiz, who is a fourth-year doctoral student in homiletics and liturgics, and Michael Sekuras, who is a second-year doctoral student in Hebrew Bible, are current Vanderbilt HTI fellows. The initiative was established in 1996 at Emory University as a scholarship, mentoring and networking program for Latino/a Ph.D. students. In 1999, the program moved to Princeton University Seminary, where it continues to be housed.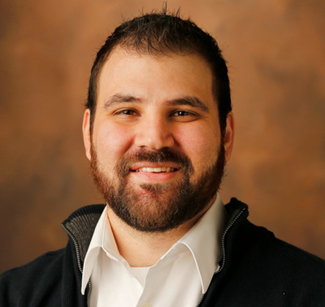 In 2007, Vanderbilt Divinity School, under the leadership of then-Dean James Hudnut-Beumler, Anne Potter Wilson Professor of American Religious History, was among 17 schools that founded the Hispanic Theological Initiative Consortium (HTIC). Its purpose is to fund the mentoring and networking components for each participating scholar. Each of the founding schools had already brought three or more doctoral scholars through the program.
Valle-Ruiz, who was born and raised in Puerto Rico, will bring her mother and brother to a celebratory dinner Nov. 18 in San Antonio, Texas, where Vanderbilt and other consortium members will mark the 20th anniversary of the program. Also representing Vanderbilt will be Emilie M. Townes, dean of the Divinity School; C. Melissa Snarr, associate dean of the Divinity School and associate professor of ethics and society; and Fernando Segovia, Oberlin Graduate Professor of New Testament and Early Christianity. Segovia is a longtime adviser, friend and mentor to HTI fellows and scholars.
The event will be held on the eve of the American Academy of Religion/Society of Biblical Literature annual meetings, where Valle-Ruiz will be among the presenters.
"Latino/as continue to be one of the fastest growing racial/ethnic groups, and we have placed a strong priority on preparing students who represent the breadth of our diversity to join current and future faculty generations," said Townes, E. Rhodes and Leona B. Carpenter Professor of Womanist Ethics and Society.
Vanderbilt alumni/ae who earned their doctorates as HTI scholars include: Leticia Guardiola-Sáenz, assistant professor of Christian scriptures at Seattle University School of Theology and Ministry; Gilberto Medina, a speaker, coach, consultant, teacher and founder of Gilberto Medina Ministries; Rubén Muñoz-Larrondo, assistant professor of Biblical studies at Andrews University; and Luis Menéndez Antuña, assistant professor of New Testament at Pacific Lutheran Theological Seminary.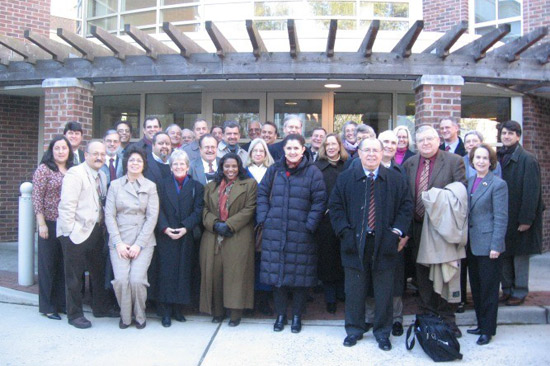 All HTI scholars are assigned mentors within their academic fields of interest to help guide them through the dissertation process, according to the Rev. Joanne Rodriguez, director of the Hispanic Theological Initiative and the Hispanic Theological Initiative Consortium. "The mentor and mentee attend training sessions, sign a contract and communicate throughout the dissertation process and beyond. We provide funding for the mentor to visit his or her assigned student annually. The mentor will also meet with the student's faculty adviser."
Valle-Ruiz's HTI mentor is Elizabeth Conde-Frazier, dean of Esperanza College of Eastern University and her faculty adviser is Dale P. Andrews.
Both Valle-Ruiz and Sekuras give high marks to the four-day summer workshops available to all of the fellows. "The chance to have in-depth conversations with professors and other scholars at these workshops has been invaluable," Valle-Ruiz said. "Topics of discussion can range from the challenges of being a student of color to different approaches and perspectives on research and teaching as a Latino/a scholar."
The summer workshops are tailored for the participating fellows according to the students' specific year within the doctoral program. For example, last summer Valle-Ruiz attended sessions to help her prepare for the rigorous comprehensive exams taken by doctoral students. Meanwhile, the workshops that Sekuras took were more focused on reading and writing skills for first- and second-year doctoral students and exploring the dissertation process.
Valle-Ruiz, who earned a master of theology from Princeton Theological Seminary, would like to teach at the graduate level after she completes her doctorate. She also is a graduate of the Louisville Presbyterian Theological Seminary.
Sekuras, who was born in New York City, moved to Greenville, South Carolina, when he was five years old. His mother is Colombian while his father is from Greece. He earned a master of divinity from Westminster Theological Seminary and a master of theology from Princeton Theological Seminary before coming to Vanderbilt in fall 2015. He would also like to teach after graduation.
Sekuras' mentor is M. Daniel Carroll R., the Blanchard Professor of Old Testament at Wheaton College.
"For me, my Hispanic identity was something that always seemed in the background since I grew up primarily in South Carolina," Sekuras said. "To have a consortium of individuals with whom I share similar interests and concerns as a Hispanic scholar is a very valuable resource," Sekuras said. He noted that several of his relatives on his mother's side are pastors and other church workers.
"There are very vibrant Hispanic and Hispanic theological communities here in the United States, and it would be a sad irony if I went through a doctoral program and did not think about how to translate or write in multiple languages, or write on issues that deal specifically with the Hispanic community," he said.