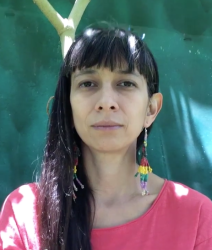 Members of Nashville's Latino community are invited to participate in the world premiere of Comunidad, a new work by Guatemalan performance artist Regina José Galindo at 10 a.m. Saturday, Nov. 12, at Vanderbilt Stadium. The free performance culminates her two-week residency at Vanderbilt and is open to the public.
"Regina Jose Galindo is one of those rare artists whose work is both aesthetically compelling and politically engaged. Her performances have a raw power that touches the heart; they also give voice to the unspoken histories of violence and exclusion in Guatemala," said Ted Fischer, professor of anthropology and director of the Center for Latin American Studies, which is co-sponsoring Galindo's visit with the Vanderbilt Department of Art. "Her visit strengthens our One Vanderbilt in Latin America initiative," which coordinates a number of transinstitutional collaborations through Vanderbilt's Guatemala Field Station. "We are fortunate to have this world-renowned artist come to Vanderbilt as part of CLAS' Visiting Resource Professor program."
Galindo uses her body to demonstrate how state violence impacts the bodies of women and racial minorities. A recent performance was a staged reading of testimony of Maya women who had witnessed atrocities committed by the Guatemalan army during that country's civil war, while a male dentist repeatedly interrupted her to anesthetize her mouth and eventually rendered her words unintelligible.
"The idea of 'Comunidad' is for members of the Latino community of Nashville to come together to create an experience of solidarity," said Candice Amich, assistant professor of English, who studies Galindo's work. "Galindo will assemble participants in such a manner as to demonstrate what mutual support within immigrant communities looks like. [lquote]She will put the safety of her body into the hands of her community, demonstrating a visceral trust that crosses borders."[/lquote]
After the performance, all participants are invited to a lunch celebration and viewing of an exhibition of Galindo's work at the Department of Art at the E. Bronson Ingram Studio Arts Center.
The performance is open to the public. The event is free, but RSVPs are strongly recommended. Please RSVP on Facebook. Free parking is available at Vanderbilt's 25th Avenue Garage. Please use the Highland Avenue entrance.
In the event of rain, Comunidad will be rescheduled for Sunday, November 13th, again at 10 a.m.
During her residency at Vanderbilt, Galindo will participate in Amich's seminar on performance art and she will work with studio arts students in a course taught by Mel Ziegler, Paul E. Schwab professor of fine arts and chair of the department, as they develop their senior projects.
Galindo will also give a public lecture on her work on Wednesday, Nov. 9, at 6 p.m. in 103 Wilson Hall and attend a public reception on Thursday, Nov. 10, from 4 to 6 p.m. at Space 204 in the E. Bronson Ingram Studio Arts Center.
For more information please visit: www.vanderbilt.edu/clas/regina-jose-galindo.