A Vanderbilt University initiative to develop a model curriculum for social justice work will be the focus of a Divinity School community breakfast Nov. 8. The breakfast will be from 7:30 to 8:30 a.m. in the school's Reading Room.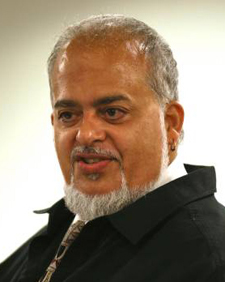 Dale P. Andrews, Distinguished Professor of Homiletics, Social Justice, and Practical Theology, will discuss "Vocations in Racial Justice: Transdisciplinary Activists, Practitioners, Scholars."
Andrews is the principal investigator among an interdisciplinary group of Vanderbilt faculty and administrators working on this two-year project, which is among 13 award recipients in 2016 for the Trans-Institutional Program (TIPs) initiative.
Joining Andrews will be Casandra Miller and Carlin Rushing, who serve as program coordinator fellows for the project.
"A goal of this cross-college collaboration is to develop a curriculum for training vocational activists and scholars across different academic disciplines," said Andrews.
He noted that individuals who have worked for racial justice have drawn historically upon the knowledge and commitments of energized practitioners across several generations. The role models have often worked in the NAACP, the National Urban League and other social justice organizations and churches.
"While many vocational activists have had a variety of training in areas such as law, social work and ministry, few have had the opportunity for an educational regimen devoted principally to the study and practice of such specialized occupations," Andrews said. "We would like to draw upon the intellectual resources across many of the schools and vocational offices within Vanderbilt to develop such a curriculum. The topics would address ongoing and future issues important to the goals of racial justice. They would also provide models for social justice work more broadly."
The cost of the breakfast is $10 for the public. There is no charge for students, but reservations are necessary. Please call 615-936-8453 or register online.