Media Inquiries
Latest Stories
https://youtu.be/twnHeqQ9hnw
As the second in a series of student profiles related to Opportunity Vanderbilt, William Bell represents just one of the nearly 9,000 students whose lives have been changed by this financial aid initiative. For more information on Opportunity Vanderbilt, visit vu.edu/oppvu.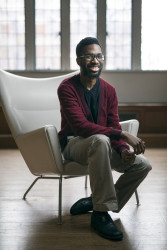 As a child of a military family, William Bell has a different relationship to home than most.
He was born in Germany. Then his family moved to Tennessee. Then Louisiana. Georgia. Back to Tennessee, Germany and Georgia.
All in all, his family did not stay in one place long. "By the time I graduate, the four years that I will have spent at Vanderbilt will be the longest I've lived anywhere," said Bell. "Which means this university is home to me."
That is not the only reason Vanderbilt is a special place to him. During his family's second stint in Tennessee, his mom was diagnosed with breast cancer and was treated at Vanderbilt University Medical Center.
"In a very real way, Vanderbilt became important to me and my family. So the age of 13, I decided Vanderbilt was my dream school. I decided I would do whatever it would take to get to this school, to be part of the legacy that helped keep my mother alive."
Though Bell's parents told him they would do everything to support his dream, they all knew it would be difficult. So when Bell found out he would receive the Martino Scholarship—endowed by Margharet and Frank Nash, BA'73—he was more than relieved. For students like Bell, coming to Vanderbilt is made possible by the university's Opportunity Vanderbilt initiative, which replaces loans with scholarships and grants for undergraduate students with financial need.
"To be completely honest, it blew my mind. To have someone besides my family willing to invest in my education. To have someone say that they believed my education was worth it. It's more than I can put into words. What was basically a complete stranger was willing to fund my dreams."
Bell is now a senior at the College of Arts and Science, majoring in medicine, health and society. An active member of campus, he has participated in a range of activities from spoken word to sailing to education policy. This year, as he looks to his future, he will decide between two passions in his life: nursing and law.
"No matter what I choose, I know I want to be part of changing medicine and health care in America—either from the inside or the out. I'd say I'm pretty fortunate to have these choices. And I owe Opportunity Vanderbilt for giving me those options. It has helped define my Vanderbilt experience and my desire to make the most out of it."
Since its inception, Opportunity Vanderbilt has supported more than 8,900 undergraduate students. In the 2016-2017 academic year, the progressive financial aid program is assisting 3,058 students. Opportunity Vanderbilt depends on generous alumni, parents and friends to support students with financial need. More than 3,500 people have made gifts ranging from $1 to $20 million since the initiative was announced in 2008.