Chancellor Nicholas S. Zeppos, Writer-in-residence Alice Randall to participate in roundtable discussion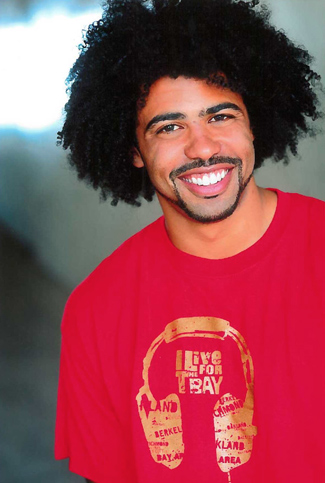 Grammy and Tony Award-winning performer Daveed Diggs, who starred in the original Broadway cast of the hit musical Hamilton, will speak at Vanderbilt University on Wednesday, Nov. 9. "A Conversation with Daveed Diggs" will begin at 7 p.m. in Langford Auditorium and will feature an interview with Diggs conducted by Associate Professor of Musicology James Lovensheimer. A question-and-answer session with the audience will follow.
Preceding Diggs' talk, Vanderbilt Chancellor Nicholas S. Zeppos and Writer-in-residence Alice Randall will participate in a roundtable discussion from 6:15 to 6:45 p.m. providing insight into Alexander Hamilton, the statesman's—and Hamilton, the musical's—influences on contemporary American politics. Zeppos and Randall also will give brief commentary on the outcome of the 2016 presidential election.
Tickets are $10 for Vanderbilt students and $20 for Vanderbilt faculty and staff with a university ID. Tickets for students, faculty and staff may be purchased at the Sarratt Student Center Box Office or through Ticketmaster beginning Monday, Oct. 31. A limited number of tickets are available on a first-come, first-served basis at no charge for Vanderbilt students who receive financial aid through Opportunity Vanderbilt. Please contact cls@vanderbilt.edu for more details about the complimentary Opportunity Vanderbilt tickets.
Tickets are $25 for the general public. Tickets may be purchased at the Sarratt Student Center Box Office or through Ticketmaster beginning Thursday, Nov. 3.
Diggs won the 2016 Tony Award for Best Featured Actor in a Musical for his roles as "Thomas Jefferson" and "Marquis de Lafayette" in Lin-Manuel Miranda's record-setting Hamilton, which garnered 16 Tony nominations and won 11 awards. Diggs also won the 2016 Grammy Award for Best Musical Theater Album alongside the Hamilton cast. He played his final performance in the show on July 15, 2016.
Diggs is currently guest starring on the ABC television series Black-ish. He is an accomplished hip-hop artist and musician and serves as the emcee of the Los Angeles-based experimental hip-hop group clipping. During his Vanderbilt appearance, Diggs will discuss the impact of Hamilton on popular culture during an election year, the institutional barriers facing African Americans on Broadway, and hip-hop's place in contemporary culture.
Zeppos is a distinguished legal scholar recognized five times with the "Best Professor" award. For the past decade, he has taught a course on The Federalist Papers, a collection of 85 articles and essays written by Alexander Hamilton, James Madison and John Jay promoting the ratification of the United States Constitution.
Randall is an author of novels, a producer of screenplays, and an award-winning songwriter. She is a Vanderbilt writer-in-residence in the Department of African American and Diaspora Studies as well as faculty head of Stambaugh House at The Martha Rivers Ingram Commons.
Parking for the Nov. 9 event will be available in the 25th Avenue Garage, located near the intersection of 25th and Highland avenues. Please use the Highland Avenue entrance to the garage and park in any non-reserved spaces.
The student-organized Vanderbilt University Speakers Committee is sponsoring the Diggs event. The committee's mission is to enhance the quality of student life and the Vanderbilt educational experience by attracting and presenting distinguished speakers to the university community. The committee's programs seek to encourage thoughtful reflection and dialogue on contemporary issues in order to promote and strengthen the intellectual environment at Vanderbilt.